One of the most important sales tools when selling a SaaS solution is their customer relationship management (CRM) tool. In this article, I'm going to take the top CRMs for SaaS and review them using the criteria I've outlined in the past so that you can make an educated decision on which CRM will work best for your sales team.
It doesn't matter if you're managing a SaaS app, an online store, or your own team of employees — the best CRM is one that makes your life easier. A CRM that allows you to get more done in less time. It should offer you a perfect combination of smooth sales automation, real-time insight, and seamless collaboration. In other words — it should act as an information hub for everything we do as business owners, marketers and salespeople.
One of the best CRMs for SaaS is Pipedrive. If you've considered switching from a spreadsheet or any other non-system, then you should consider Pipedrive. You might use it for managing your company's pipeline, but you can also use it for managing your key customer relationships.
Best CRM For SaaS Startups
Software and Software-as-a-Service (SaaS) companies are facing unprecedented changes in the world of technology, leading to new challenges in delivering the ideal customer experience. As the pandemic forced everyone into their homes and into a new remote way of life, the demands of these companies reached a serious tipping point. It suddenly became critical for brands to have a way to deliver the perfect customer experience in an entirely new environment and to a customer with an entirely new set of expectations.
Fortunately, CRM companies saw the growing need among SaaS providers for a better solution, and they created one—there are a growing number of dedicated CRMs designed for software companies, as well as several multipurpose CRMs that can be used for different industries, including SaaS and software in general.
1. SmartTask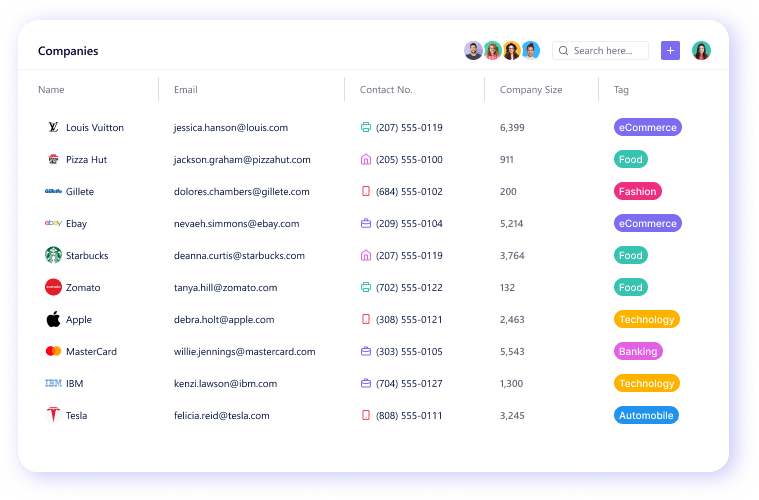 SmartTask is a complete work management solution that perfectly toes the line between being a dedicated CRM tool and a holistic platform.
It offers top-of-the-line project management capabilities and integrates them flawlessly with an in-built CRM.
With simplicity as a guiding principle, SmartTask's CRM strays clear from workflows that are too complex.
That's what puts SmartTask at the top. It is a CRM that naturally scales into an all-in-one work management tool or vice-versa.
Key Features
Contact Management
Pipeline Management
Inquiry management
Call tracking and recording
In-app video conferencing
Cross-team communication
Task and project management
White labeling
Sales Forecasting
Dashboard analytics
Pros
Clean UI with an intuitive user experience that poses little to no learning curve
A diverse feature set that you can discover gradually
One tool for several use-cases: Sales, Marketing, Customer Success, Operations, and Product Management
24/7 support; customer success manager assigned even at the most basic paid plan
The best value-for-money of all the tools compared here; plans start from $5/user/month
Cons
Sales forecasting needs you to define constraints manually
Best For
Fast-growing startups that need an insanely scalable solution
Enterprises that want top-of-the-line functionality with the best ROI. SmartTask's Enterprise plan goes for $8/user/month. No kidding!
Want an easy-to-use CRM with powerful project management?
SmartTask is the answer!
2. Salesforce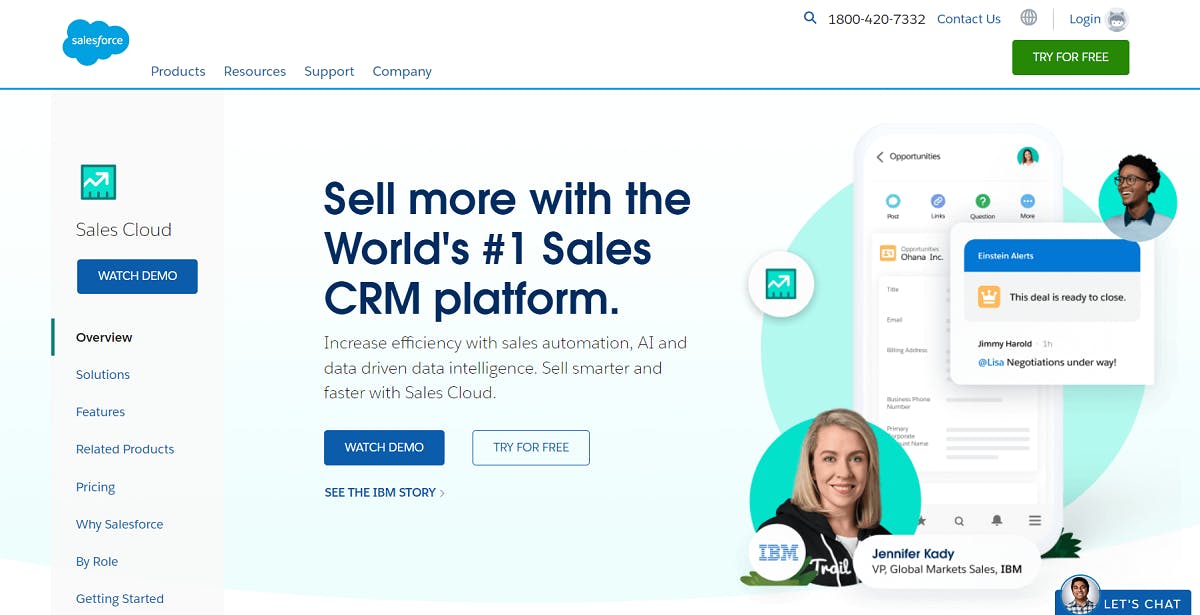 Salesforce is among the most popular CRMs to ever have entered the market. It offers a powerful blend of customization, ease of use, and scalability that other intuitive CRMs lack.
It does come with a bit of a learning curve. Especially as you begin warming up to some of its advanced capabilities. However, the training resources Salesforce provides are unparalleled, and so is its support.
Key Features
Account and contact management
advanced marketing automation
Sales forecasting
Customizable reports and dashboards
Workflow automation (Process Builder)
Lead scoring
File sharing
Task management
Pros
Ease-of-use that co-exists with insane potential for customization
A mobile app that keeps you connected to your customer data, even when you're on the move
Bountiful integrations
AI-powered decision making
Impeccable training resources
Cons
Pricing is too expensive for small teams
It's billed annually. No monthly plans
Too intricate for teams that haven't used a CRM before
Best For
Hypergrowth teams that need a scalable solution
Enterprises that want a feature-rich CRM with tons of integrations
3. Zoho CRM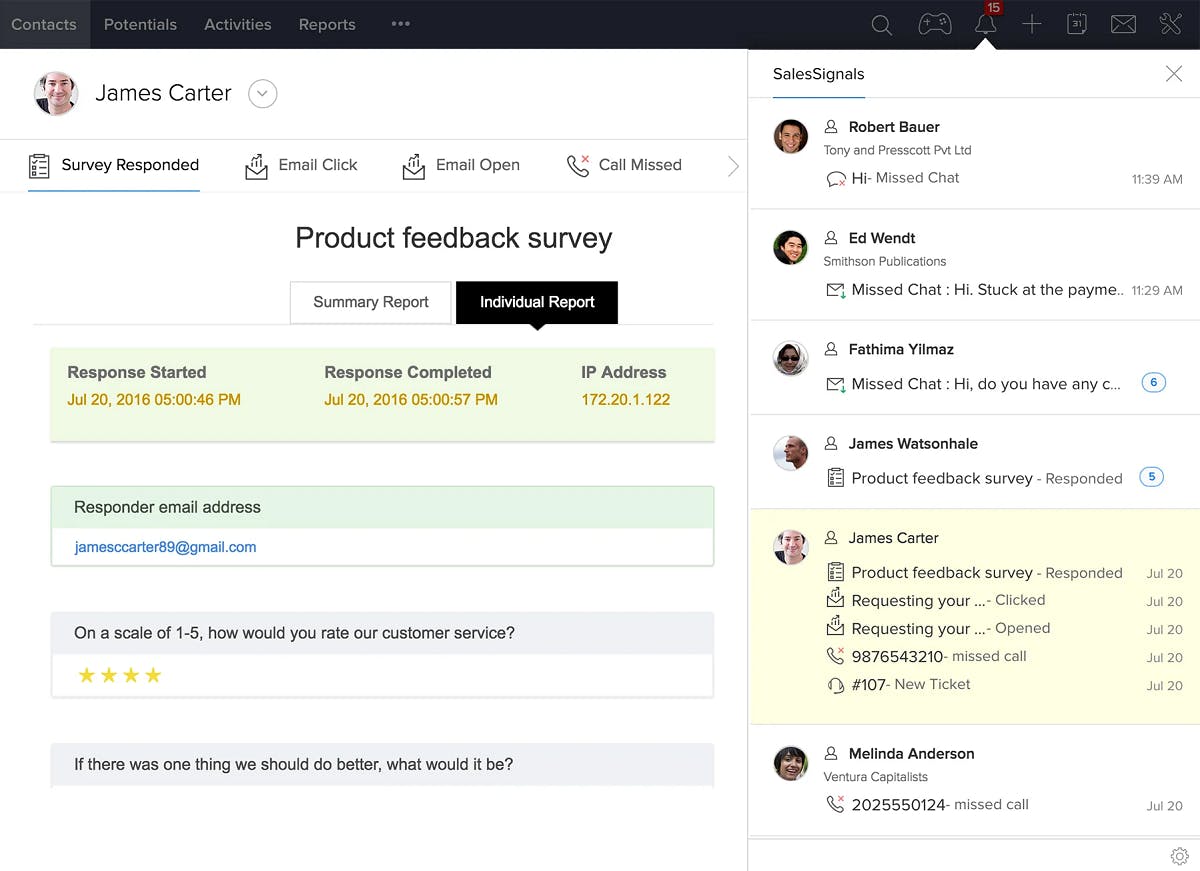 If affordability is the driving force behind your purchase decision, Zoho CRM is likely your best bet. It is a scalable solution with balanced features like opportunity tracking, workflow management, sales pipeline management, and automation.
Like SmartTask, HubSpot, and Monday, Zoho can also serve as a holistic business management platform if you pair the CRM with other Zoho products.
Key Features
Lead management
Deal management
Contact management
Workflow automation
Reporting and analytics
Live chat
email automation
Sales forecasting
Journey orchestration
Pros
A bang-for-the-buck purchase with plans starting from $12/month.
Highly accessible. Comes in 28 different languages.
Great mobile app
Can integrate with other Zoho products to form a holistic work management platform
Several integrations to help consolidate your tech stack
Cons
UI isn't as intuitive as the other CRM tools on the list.
Automations aren't robust enough
Customer support can be a point of contention for some users
It is known to be buggy at times
Best for
Small teams looking for an affordable yet scalable CRM