Hey fellow SEO. In this article, we're going to talk about the basic SEO you need when starting a new website.
As new startups, websites and blogs get created almost on a daily basis, it's not always easy to stay up-to-date with ranking factors. In this post I'll outline some basic seo tips for new websites that are easy to implement.
If you're new to seo is good practice at the planning stage to consider basic seo techniques that can help to boost your site. A question asked by many beginners after they have set up their website is, 'How can I improve my search engine optimization?' This article outlines important points that will help all websites with their optimization.
Basic Seo For New Websites
1. Outline Your Site Structure and Architecture
Search engine bots need to be able to "crawl" content on your pages to help with indexing your site. This allows them to gather the information needed to classify and rank each page accordingly. Sketch out a "skeleton" or site map of what pages your website needs to include before you start building. You might start with a homepage, about page, contact page, and services and sub-services pages, for example. If you plan on getting into blogging in the future, incorporating a blog section on your website is another area where you can easily organize and add new pages.
Take a look at Deloitte. The top of their website clearly outlines key content pillars: services, industries, insights, and careers.
The site also includes a detailed footer of important internal links to enhance the user experience when it comes to site architecture and navigation.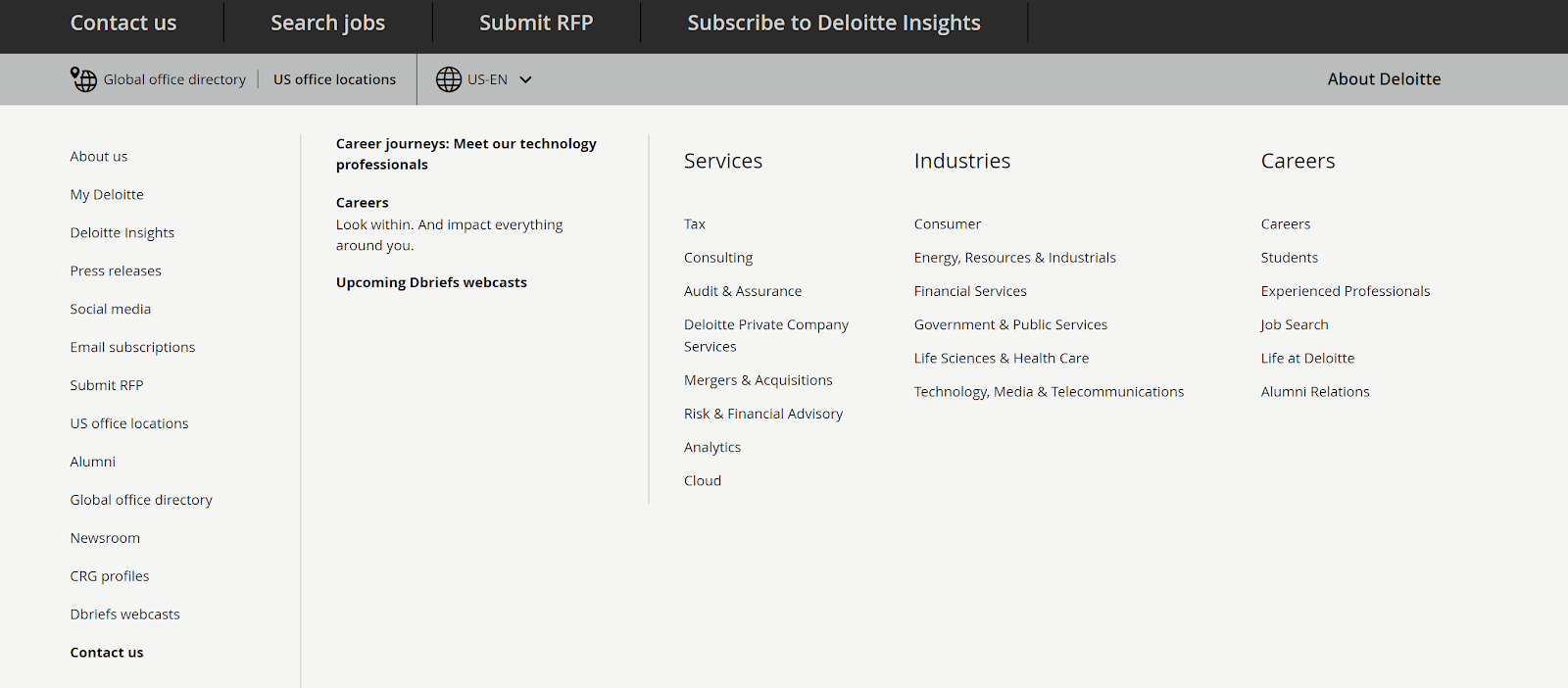 Once you start getting into granular details of a business and its services, the amount of web content needed quickly adds up. Sketching your site structure and architecture in advance is useful for a few reasons. First, you can ensure that you organize content in a way that makes sense to both humans and robots. Second, you can get an idea of how much content you will need and how many webpages you need to build. Finally, you can refer back to your site structure and architecture when determining how to interlink pages.
2. Decide If You Want to Build the Site Yourself, Use Outside Help, or a Mix of Both
Once you have your site structure in hand, you will know how much work building your website will entail. You can then make an informed decision as to whether you want to build the website yourself, hire an outside expert, or do a mix of both. For example, you can hire a developer to build the skeleton of your website and teach you how to manage it via the relevant content management system (CMS). You can then populate the pages with content.
Whichever path you choose, make sure to select your CMS carefully if you go this route. You need to choose a tool that you can use confidently, giving you the autonomy to manage your own content. Ideally, opt for an HTML5 or WordPress site, which gives you more control over factors critical to SEO and offers plug-ins to make your SEO efforts that much more effective. Automatic website builders are easier to use, but they don't give you 100% access to the website's backend. These are made for usability, not SEO.
3. Create Content Before Launch and Outline a Content Calendar for Future Content
Complete your SEO-optimized landing pages, homepage, and other more permanent pages where content won't frequently change, like the "Services" and "About Me" pages, before launch. This content should be created with specific keywords in mind, so you'll want to conduct thorough keyword research before launching this content.
Using our Keyword Magic Tool, you can add a target keyword you're trying to rank for and get back many other keywords to create high-quality content. You can find specific questions, for instance, related to your main keyword and create content that answers these questions for your target audience.

You should update and expand your website regularly. One way that bloggers do this, for example, is by adding a new blog post every week. Line up one month's worth of content in advance. This allows you to stay ahead of the game, giving you sufficient time to craft new content as you move forward.
To keep track of your content, create a comprehensive editorial calendar. For example, you can sketch out a week-by-week timeline of content topics and relevant keywords associated with those topics. Some websites will even create a full content calendar months in advance — or even look ahead at the entire year. You might make a note of industry events or public holidays relevant to your niche and worth addressing in your content.
The 1800Flowers.com blog, "Petal Talk," is a wonderful example. The blog addresses flowers, plants, and gifting topics. It regularly highlights holidays in an inclusive manner, with blogs on everything from the Diwali festival of lights to hosting a virtual Thanksgiving amid COVID-19. Tackling on-trend topics like the coronavirus is the best SEO strategy for new websites because these topics are already being searched for prolifically.
4. Prioritize On-Site and Off-Site SEO for New Websites
When it comes to SEO steps for new websites, you have to do more than create great content. Every page has to be created with an eye toward off-site and on-site SEO (also called off-page and on-page SEO). Your on-site SEO checklist for new websites should include choosing keywords, writing title tags, writing strong meta descriptions, and optimizing images for analytics. Basic SEO for new websites should also include incorporating outbound links to larger authority sites, implementing a thoughtful internal linking strategy, and incorporating social media sharing buttons. You may also need to create or merge your Google my Business Listings, if you already have this in place, pointing to another website.
Off-site or off-page SEO refers to actions you take away from your website to improve search engine results pages (SERPs). Examples of off-site SEO include building a strong backlink portfolio, and using a local business listing service. When you're just getting started, this might be tough, so focus your efforts on on-page SEO first. The one thing you can do immediately to pave the path toward strong off-site SEO is to build a strong website that people want to link to, and the best way to do that is to create content that demands attention and provides expertise.
5. Learn About Tracking and Analytics Before Your Site Goes Live
Before you launch your site, get a basic handle on analytics tools that you can use to assess your website's SEO success. Google Analytics is a good place to start.
Once you've created your account, you can get valuable insights about customer acquisition, behavior, and conversions. For example, you can see where website users are located geographically, determine how much time they spend on different pages of your website, and even check the bounce rate of visitors. With this information, you can get an idea of what your customers do and don't like about your website. For example, if you find people are spending longer periods on your video blogs, you might put more energy into creating more vlogs.
We also offer a wide variety of SEO tools that can help you track key metrics. Our domain overview tool, for instance, easily allows you to see your organic traffic, backlinks, and your authority score.