Have you ever wished there was a way to run your multi-store setup using Woocommerce? Unlike many eCommerce plugins, this one actually supports multi-stores. And with it, you can choose different themes and have complete control over certain settings (like inventory) for each of your stores.
WooCommerce gives you the ability to create multiple stores under the same installation, which can improve site performance and enhance shopping experience for your customers.
WooCommerce is one of the best selling ecommerce platforms on the web. It is free, open source and has been downloaded over 20 million times globally. The reason for its popularity is that it is simple to use. This makes it easier for ecommerce website owners to work with a professional and user friendly ecommerce platform.
Multi Store Plugin For Woocommerce
If you want to launch your eCommerce store in different countries with different languages. But, at the same time, you are worried about managing multiple stores which can be challenging. A multistore plugin can help here by allowing you to manage all your WooCommerce stores from one dashboard.
1. Veeqo

Veeqo is the perfect solution for your WooCommerce multistore to deal with shipping and inventory management. Also, this plugin provides direct integration with Amazon, Shopify, eBay, Magento, and many more.
Besides, you can sync inventory on every channel in real-time. In addition, this plugin helps you manage orders from WooCommerce and automatically update order status.
Veeqo comes with interesting features such as automating repetitive shipping tasks, bulk ship orders, and finding any order fast by using live search and advanced filter options.
Other Features:
Multisites WooCommerce management
Optimized digital picking scanners
Intuitive dashboard
Automatically always keeps track of inventory
Detailed performance reports regarding inventory, sales, and fulfilment
Unified management to track all suppliers and purchase orders
Pricing: Veeqo offers a free trial on 3 plans
Accelerator: £120 monthly
High Growth: £156 monthly
Premium: £200 monthly
2. WooCommerce Global Cart
This is an easy WooCommerce multistore plugin to use. You can run WooCommerce Global Cart plugin with simple configuration and settings.
Once you install the plugin, you will be able to run multiple distinct stores for different products or brands. Besides, you can bring them all together in one cart and checkout. As a result, your products in any store can be added to a single cart.
Moreover, it offers seamless integration to many stores which run in the multisite network. Although this plugin is not free, it is worth paying for since it supports all domain types including custom domains and subdomains.
Other Features:
Simple UI
Detailed documentation to help you with troubles
Graphs and stats to see all network store's performance
Unlimited plugin updates
Global search across all stores
Pricing:
$120 for a single network licence
$230 for unlimited usage
3. Putler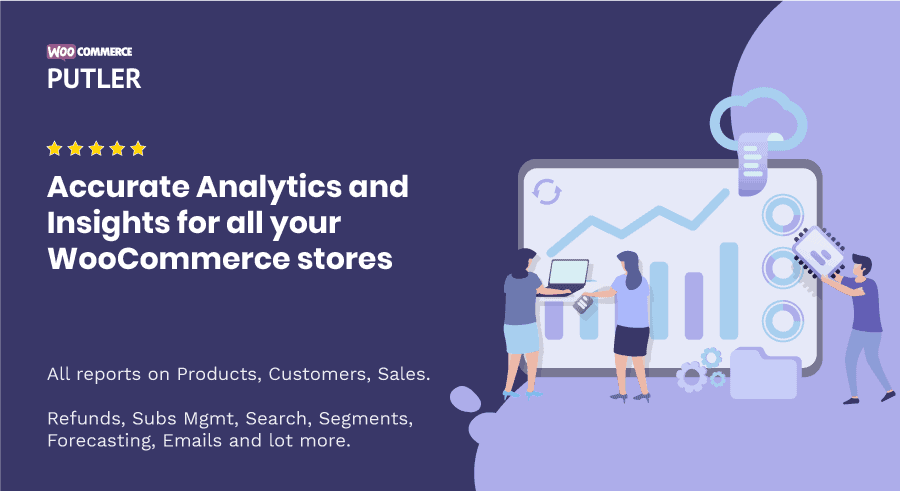 Do you want to keep an eye on your multiple stores in real-time? Then, Putler is the solution. With this plugin, you will be able to access an easy-to-use admin panel allowing you to manage and monitor how your stores work.
That way, you do not need to switch between WooCommerce store panels, do you?
Other than that, Putler comes with a business overview on the home dashboard. Also, You can get insights on current revenue, number of orders and customers, sales trend, top-selling products, comparison with previous three months, etc.
Further, you can use their Chrome extension to pull up complete customer profiles in any type of help desk or CRM!
Other Features:
Easy setup and installation
Search customer data
User-friendly and powerful analytics dashboard
Unlimited connection for WooCommerce multistore
A detailed and comprehensive performance report of transaction, order, and sales
Advanced filters
Integration with Google Analytics, payment gateways, and shopping carts
Pricing:
Starter: $20 per month
Growth: $50 per month
Custom
4. WooCommerce API Product Sync
From its name, we know that with WooCommerce API Product Sync, you can easily sync product data and manage them in one place.
Also, there are sync bulk options that help you to update everything related to the product in multiple stores like media, tags, and categories.
Hence, once you modify or make changes to a product in one store, it will reflect in another store too! Moreover, you can also delete products automatically in both the destination and source store.
Really, this is a good solution if you run separate WooCommerce stores!
Other Features:
Sync inventory
Create specific priced adjustment for each store
Auto and Manual sync
Support any kind of product (variable, virtual, grouped, and simple)
Exclude categories, products and metadata when syncing with web stores.
Pricing: $30 for a regular licence