Vietnam is known for being a cheap and affordable place to live, but that doesn't mean you should overlook web hosting payments. After all, you only get one chance to make a first impression; therefore, it's important that your visitors are greeted by a fast loading site. The best hosts in Vietnam owe their success to their speed, servers, security and reliability — reasons why you should consider them before making your decision.
Best Web Hosting In Vietnam
TinoHost
TinoHost
Start your Business
5.0 (1 Review)
Under Tino Group Joint Stock Company, TinoHost is a rental, providing domain name, hosting, server service, domain email for businesses at an affordable price, in accordance with the needs of the majority. website users in Vietnam. Developed from a solid foundation as a leading web design company in Vietnam, TinoHost … learn more about TinoHost
"TInohost là một công ty trẻ trung năng động"
vn fun
100%
Service
Web Hosting
Visit Website
< $25/hr
2 – 9
Ho Chi Minh City, Vietnam
MatBao Company
MatBao Company
START ONLINE BUSINESS
0.0 (0 Review)
Mat Bao was incorporated in the year 2002 and in the year 2003, they started providing domain registration and website hosting services. They have been providing stable, secure and efficient Windows and Linux hosting services on Cloud hosting platform. Mat Bao has invested their money in powerful and quality servers … learn more about MatBao Company
"Be the first one to review MatBao Company"
100%
Service
Web Hosting
Visit Website
< $25/hr
2 – 9
Ho Chi Minh City, Vietnam
TND
TND
SPEED ​​UP YOUR WEBSITE TODAY!
0.0 (0 Review)
We research, update software and new platforms constantly. Always bring the latest features to you.Your Hosting will be automatically backed up weekly to ensure safety. Especially with Cloud VPS servers, you will be automatically backed up daily.We use high-end hardware, leaving no room for outdated and slugg … learn more about TND
"Be the first one to review TND"
100%
Service
Web Hosting
Visit Website
< $25/hr
2 – 9
2009
Ho Chi Minh City, Vietnam
INET
INET
Protect your brand on the Internet
0.0 (0 Review)
iNet Corporation started its business operations by providing domain registration and internet services since 11th March 2007. On 10th October 2011, iNet was certified by Vietnam Ministry of Information and Communication as a .VN domain name registration provider. iNet offers quality Linux website hosting and Cloud … learn more about INET
"Be the first one to review INET"
100%
Service
Web Hosting
Visit Website
< $25/hr
2 – 9
Ha noi, Vietnam
TENTEN.VN
TENTEN.VN
ONLINE BUSINESS – BUY NOWDOMAIN
0.0 (0 Review)
Tenten is the only agent of GMO Internet Inc of Japan in Vietnam. Tenten has been providing quality hosting, SSL and domain name services in the whole of Vietnam. Tenten has invested in a fully functional and well-equipped data center which is as per the modern technology and as per international standards. Tenten p … learn more about TENTEN.VN
"Be the first one to review TENTEN.VN"
100%
Service
Web Hosting
Visit Website
$25 – $49/hr
2 – 9
Ha noi, Vietnam
BKNS.VN
BKNS.VN
Specializing in providing networking solutions
0.0 (0 Review)
Back Kim Network Solutions started its business operations on 10th August 2010 and has been providing online business solutions by providing services which relates to website domain registration, website hosting, software development, website designer, website advertising services, SSL certificates and many more. Th … learn more about BKNS.VN
"Be the first one to review BKNS.VN"
100%
Service
Web Hosting
Visit Website
< $25/hr
2 – 9
Ha noi, Vietnam
VinaHost
VinaHost
We are always ready to help!
0.0 (0 Review)
VinaHost is a professional provider in the field of hosting/server with more than 10 years of experience in Vietnam and North America. We are committed to providing the best hosting and server services in the Vietnam. With professional, enthusiastic and experienced staff, we will quickly find out and solve your problem … learn more about VinaHost
"Be the first one to review VinaHost"
100%
Service
Web Hosting
Visit Website
< $25/hr
2 – 9
Ha noi, Vietnam
Nhan Hoa
Nhan Hoa
to build your brand on the Internet
0.0 (0 Review)
Established in 2002 due to the indispensable integration needs of the economy and currently providing services to more than 50,000 customers. We always strive to innovate constantly to build the company into a strong, modern and cultural organization with the desire to expand cooperation with domestic and foreign partn … learn more about Nhan Hoa
"Be the first one to review Nhan Hoa"
100%
Service
Web Hosting
Visit Website
< $25/hr
2 – 9
2002
Ho Chi Minh City, Vietnam
THE ONE VIETNAM
THE ONE VIETNAM
Website. Digital Marketing. Travel & Immi service
0.0 (0 Review)
The One Vietnam is a leading company in the field of website design and advertising Google, provide hosting and domain name quality and efficiency. We provide a technology platform reliably and safely. Also bring the solution to manage your problems. A lot of software engineers working for various customers (North A … learn more about THE ONE VIETNAM
"Be the first one to review THE ONE VIETNAM"
50%
Service
Web Hosting
Visit Website
< $25/hr
2 – 9
Ho Chi Minh City, Vietnam
HOSTVN
HOSTVN
Hostvn.net
0.0 (0 Review)
Thương hiệu HOSTVN đã có nhiều năm cung cấp các dịch vụ: đăng ký tên miền, web hosting, Cloud VPS, email
best web hosting in japan
Having a strong online presence has become a must-to-have asset for any company looking forward to growth and profits. The expanding digital needs demand a lot of attention as the customer today trust a company that has a great online presence and offers products and services virtually. The first requisite to enter the online space is having a website that is accessible by all the users around the world using the World Wide Web.
Talking about hosting, the debate of choosing a local or an international web host service has been hot since long. There are a different set of peoples arguing the pro and cons of both the options. However, the group advocating local Japan web hosting companies has many strong facts to claim.
Cloudways
(Our Top Ranked #1 Web Host)

Latest Uptime Stats (Real Records) – 99.98% (Last 12 Months)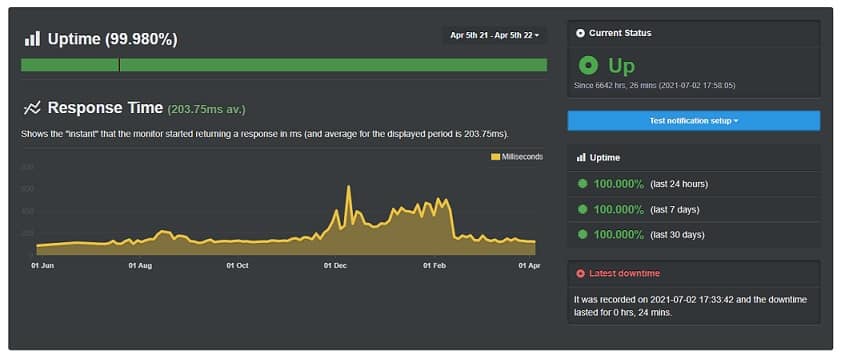 Experts of the industry state that a local Japan web hosting company has a satchel of benefits that offer businesses a variety of competitive advantages over their competitors. Let us discuss the benefits that you gain when you choose to hire a local Japan web hosting company:
Greater visibility:
Becoming visible to your customers is of utmost importance. Most of the companies focus on local customers and thus making a visible online presence that attracts the local demographic becomes a must. By choosing a local Japan web hosting company, one gains a local IP address that makes a company rank higher in local search engine search results.
Instant support:
Technology is the most powerful tool that any business can ever have. It helps web hosting companies by offering their services from a remote location. Indeed a web hosting company can attend any technical glitch remotely but at the time being physically present becomes imperative. Here a remotely located company representative takes more time to reach the client site in comparison to the one that is located locally.
Performance advantage:
Local server caters to the client sites more efficiently than remote services and thus the site enjoys better load time and user-experiences. The companies that have local servers are prompt and offer a price advantage to its clients because of technological advantages.
Top 10 Japan Web Hosting Companies
There are a number of local web hosting companies in Japan that offer great web hosting services at best prices and amazing customer services. Let us review a few of them:
1. Sakura Internet
SAKURA Internet started in the year 1999 and evolved as one of the best web hosting service Provider Company in Japan. The company is considered technically advanced and customer-centric because of their efficient services and excellent customer care.
They excel in providing great connection services to their customers along with server installation and management services. Masters of internet consulting, SAKURA International is considered as one of best web hosting company in the entire Japan. They excel in rental server services besides offering VPS Web Hosting, Cloud Web Hosting, Dedicated Server Web Hosting, IoT and more.
2. LOLIPOP
LOLIPOP is the great choice if you are looking for excellent web hosting services at a great price. They are a leading web hosting service provider that focuses on technological advancement and innovative services. The company's USP is the affordable prices that they offer under various web hosting plans – Economy, Light, Standard, Enterprise, to its customers.
The company offers web hosting services supported by amazing Lolipop features, functions list, server specifications. They offer web hosting services starting from less than 2,000 yen. Their 24/7 support system is also one of the best in the Japan.
3. XSERVER
For any company starting an online business in Japan, XSERVER is the right company to choose from all it's web hosting requirements. Established as a Network service operating organization, XSERVER offers a variety of services to its customers. With a capital of 99 million Yen, the company is listed under the top 5 web hosting services providers that excel in technology and customer service.
Their rental server service is the top rated service for experienced and new entrants. They offer a complete range of services like free proprietary SSL, CMS installation, Multi-Domain unlimited, Auto Backup, PHP 7/PHP 5, Unlimited mail account, reliable 24/7 support, complete security and more.
4. Heteml
Heteml is a Japanese company that offers local Japan web hosting services to its clients. They claim to be the safest and fastest web hosting service providers in Japan and offer free proprietary SSL service, automatic backup service, and utilization rate of up to 99.99%. They offer two different plans – basic and plus at the rate of 800 yen/month and 1600 yen/ month respectively.
To add more, they offer a free 15 days trial period to all its customers. Supported by high capacity, modular PHP, & HTTP 2 compliance, they are among leading market players. There customer support service is also rated high as they believe in long-term customer relationships. At present, the company enjoys a customer base of thousands of customers.
5. CPI
Established in the year 1987 and is one of the best web hosting service providers in Japan. They have a current capital of 65 million Yen and operate from their head office in Tokyo. The business offers a variety of Cloud / Hosting Business, Web Service Business, Platform Business services to its customers.
They are primarily into rental server business and help local and international companies to take advantage of local web hosting services. The company primarily offers shared rental servers, managed the dedicated rental server, and hybrid plan server. They cater their clients to their bespoke needs and offer tailor-made solutions.
6. CORESERVER
CORESERVER is a leading web hosting service provider in Japan which excels in terms of technology and creative solutions. Their rental server services are cheap yet efficient and cater to a variety of Client's needs including highly stable WordPress management, Live chat in case of emergency, high-speed response and free SSL, HTTO/2 & other security options.
The company also offers 30 days free trial period to ensure that the customer is fully satisfied with the services before they avail the complete package. There are 4 main products of the company including CORE-MINI, CORE-A, CORE-B & CORE-C.
7. Onamaeis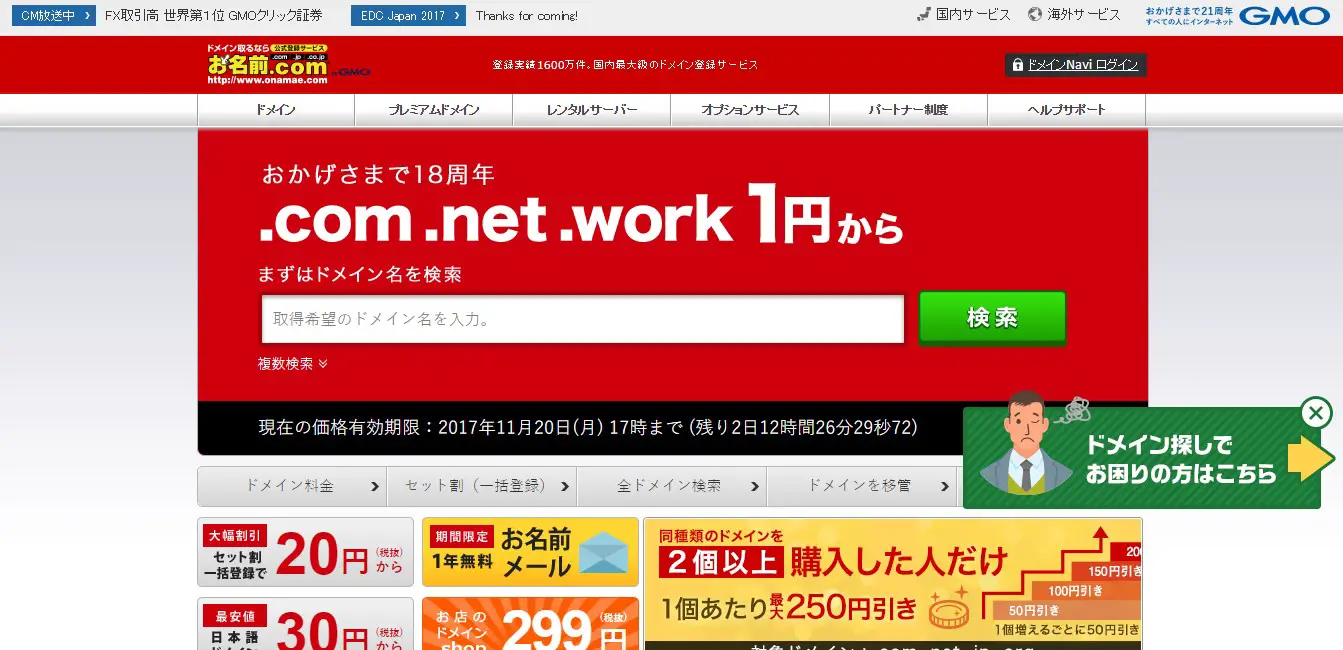 Onamaeis a leading web hosting service provider in Japan offers technologically advanced and result in oriented services. They are considered as the best domain registrar and offer a variety of domain service including domain registration, domain transfer, domain update, domain information change, etc.
The rental server services are also considered as one of the greatest and include services like a shared server, website editor, VPS server, email marketing and more. Their services are available at a cheap price but have much more to offer than their value. The company already caters a huge pool of customer including some of the reputed names in Japan.
8. Zenlogic
Zenlogic is a rental server provider primarily focused on small business. Besides offering proficient rental server services, they also excel in the domain name, SSL Server certificates, email security, operation support service and more. They offer various plans and the features of the plans can be changed according to the requirement of the client.
Only "Plan-S" offered by the company is a fixed plan that offers special features to its prime customers. The company claims to be the most reliable and responsive company for customer's needs and already caters some reputed businesses in Japan.
9. WADAX
WADAX by GMO is another powerful web hosting service provider in Japan with a rich customer base to display. They are the leading web hosting aggregator with great support system offered to its customers. Their high security & safety system ensures best web hosting and rental servers usage. They specialize in rental servers, server relocation, web hosting (dedicated and shared), SSL Certificates, Cloud Web Hosting and more.
The shared web hosting service offered by WADAX starts at 1188 Yen per month. Their USP is the excellent customer support that they offer to its customers with dedication. With many customers to vouch for their services, WADAX is expanding its service range and geographical reach.
10. X2
X2 Web Hosting is a subsidiary of XSERVER Co. Pvt. Ltd. Their head office is located in Osaka and has a total capital of 99 million Yen. The company is a high capacity web hosting service provider that excels in offering quality services at affordable prices. The services they offer include the domain name, SSL Certificates, Web hosting (shared, dedicated, VPS, cloud), and more.
The company believes in customer relationship management and thus offers 14 days free trial service to its customers. One can avail their services at a price as low as 6000 yen per month. Their subscription can be availed in packages altered for three, six and twelve months.