Having a business is not just about having a physical purches on a certain place. It is about having an online presence. Digital marketing for small businesses has become quite popular because it let's you advertise your products in the digital environment.
These days, it seems as though small businesses are either taking advantage of digital marketing or they're being left behind. Digital marketing is a great way to promote your business. Here are some reasons you should get started today.
Whether you are just starting out, or have been in business for awhile, it is important to find ways to grow your business. One of the ways that many people find ways to achieve this is through digital marketing efforts. Before you start though, there are a few things that you'll want to keep in mind.
Benefits Of Digital Marketing For Small Businesses

1. Global Reach
Traditional marketing is restricted by geography and creating an international marketing campaign can be hard, expensive, as well as labor-intensive. However, digital marketing happens on the Internet, which means that the reach you can achieve with it is immense. Even a very small local business owner has the ability to reach an international audience with an online store. This would never be possible with traditional marketing or would cost a whole lot of money to do so. This online accessibility has opened many growth opportunities for businesses to explore. The combination of global reach and visibility is a great opportunity for any business.
2. Local Reach
While global reach is a significant advantage of digital marketing, it also improves local visibility, which is especially important if your business relies on nearby customers. Local SEO and locally targeted ads can be beneficial for companies trying to bring more customers to their doors. Think of the reach you can get to a whole neighborhood with digital marketing versus the reach it would take you to print out flyers and distribute them around.
3. Lower Cost
Whether you want to promote your business locally or internationally, digital marketing provides you with cost-effective solutions. It allows even the smallest companies to compete with larger companies using highly targeted strategies. Most of these strategies won't even cost anything at all to start with (such as SEO, social media, and content marketing). However, not every form of digital marketing is suitable for every business and some may even have more costs than others. A business can find appropriate solutions based on its marketing goals.
4. Easy to Learn
While there are many aspects of digital marketing that you need to learn, it is fairly easy to get started with. It gets more complex from the nature of the goals and the scale of the campaigns. However, it is all a matter of finding the right strategy that works for your business.
Professional Certificate in Digital Marketing
Designed With Meta Blueprint & IMT GhaziabadAPPLY NOW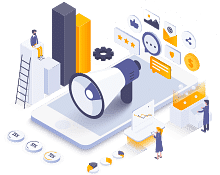 Even if you don't have a clear idea of your target audience, digital marketing enables you to extract data to see which audiences will work best for you and optimize your campaign around them. There are many different options of targeting such as through keywords for search engine optimization (SEO), pay-per-click (PPC), or through demographic information on social media. This enormous amount of targeting elements at your disposal makes sure that every campaign reaches the right audience. It also helps you to analyze the changing behaviors of customers and modify campaigns for those changes. This ability to understand customers' changing needs quickly is a sure way of success for any company.