Latest News Plugin For WordPress is an awesome plugin to display latest news and updates in your blog. It will automatically fetch the latest posts from your WordPress blog, and show them in a nice way from your dashboard.
Latest News Plugin For WordPress
EATURES INCLUDE
Style: Choose 3 different posts list style
Open link in new tab
Show/hide post title
Allow you to set title url
Selected or multiple post types
Selected or multiple categories
Selected or multiple tags
Include or Exclude Categories
Post status
Custom html or text before and/or after recent posts
Orderby date, comment count, random, and more
Display thumbnails
Display excerpt, with customizable length.
Display post date
Display modification date
Display comment count
Display post author
Exclude current post
Custom CSS
Multiple widgets
SUPPORT THIS PROJECT
Translate to your language.
Contribute on Github.
Donate.
STYLE EXPLANATION
There are 3 style you can choose:
Default
This is just a basic style, the posts list style follow your theme stylesheet.
Classic
Classic style is a basic style with some little improvement, it adds a nice border bottom to each list to seperate them and change the font color and size of the post meta and excerpt. This style works with whatever setting you choose, either small thumbnail or big thumbnail with centered position.
Modern
Modern style adds a nice opacity to the thumbnail and display the title on the corner of the thumbnail. This style only works perfectly with some condition, if you want to get the best result please follow below steps:
Switch the Thumbnail Size to medium
Only display the title, please uncheck another data such as date, comment count, author, etc.
Remove everything inside the Custom CSS box.
Switch the Style option to Modern
Done!
wordpress news plugin free
Even if you don't have a free WordPress site, there are other aspects of your WordPress installation that can be free. Some are always free, while with others such as plugins or themes, you can choose between free and premium options.
Getting something for free may sound too good to be true. And sometimes it can be. But the people who develop free themes and plugins for WordPress do it for valid reasons: they either want to give something back to the community or they have a free version of a plugin that you can upgrade with a premium option. In this case, the free version acts as a lead-in for the paid one.
That doesn't mean there aren't sources of free WordPress code that are legitimate. Here I'll look at the different aspects of WordPress that you might be able to get for free and help you do so without compromising the security or quality of your site.
Aspects of self-hosted WordPress that are (or can be) free are:
Core software
Support
Themes
Plugins
Updates
Let's take a look at each of these in turn.
Free Software
WordPress itself is free. If you're downloading WordPress, always do so from the official WordPress download page.
At Kinsta, we provide a tool that you can use to install WordPress without having to download the code. An auto-installer like this is safe and reliable and will save you time and effort.
Free Support
A quality hosting provider will give you support as part of its hosting plan to help you with your hosting, domain management, and WordPress installation.
If you need help with other aspects of WordPress, such as learning how to manage your site, writing your own plugins, and fixing problems with your themes or plugins, you'll need to find other sources of WordPress support.
Something worth repeating: free support is provided by volunteers, WordPress experts who are giving something back to the community or people whose employers give them time to work in the support forums. As you aren't paying for this support, you should temper your expectations accordingly and not expect an immediate answer.
Free Themes
There are thousands of free themes available via the WordPress theme directory.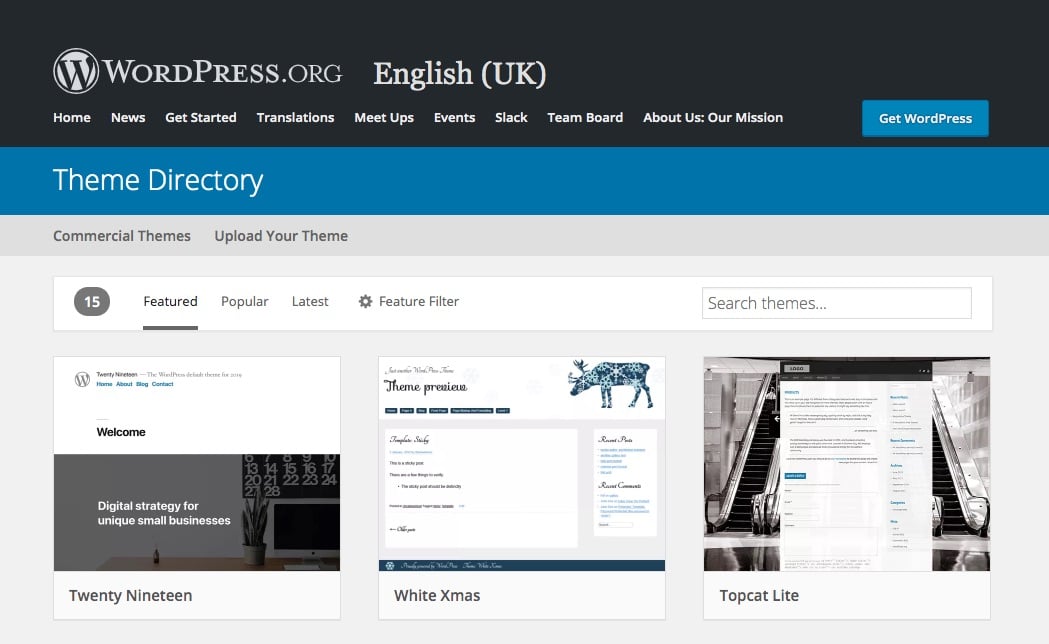 These are created by a variety of developers, including commercial theme developers, volunteers, and the WordPress.com team. They all go through rigorous testing before they're made available so you can be confident they're well-coded, reliable, and secure.
The WordPress theme directory is the only place where you can safely download free themes. You can either download them directly from there or install them via the Themes page in your site admin.
Don't download free themes from other sources! If the theme is robust and secure, the developer should be distributing it via the official directory. If not, then you may be at risk of installing a theme in your site that includes spammy or even malicious code.
Free Plugins
As with themes, there are thousands of free WordPress plugins available via the plugins directory. These range from small plugins that add a couple of lines of code to your site or dashboard, to vast, complex plugins such as WooCommerce which adds a full-featured store to your site.
You may be wondering why people would spend time developing a plugin and then make it available for free. And that's a good question. Developers of free plugins normally come under one of three headings:
They're WordPress enthusiasts who want to share their code and give something back to the community.
They're agencies which have built a plugin for use with their clients and want other people to benefit from the code (as well as maybe getting a bit of publicity).
They're professional plugin vendors who have built a free version of a plugin in the expectation that a proportion of people using it will upgrade to the premium version or buy add-ons.
This means that people create free plugins because it can be profitable or it can be done for more altruistic reasons. But as with themes, if a plugin is provided for free, then its inclusion in the WordPress plugin directory will mean it's been tested and will most likely be safe and reliable. You can't guarantee this for all plugins all of the time as they may be affected by updates, but a good plugin developer will update their plugin to ensure it's compatible with the latest WordPress version. When you install a plugin, you're told when it was last updated and whether it's compatible with your version of WordPress.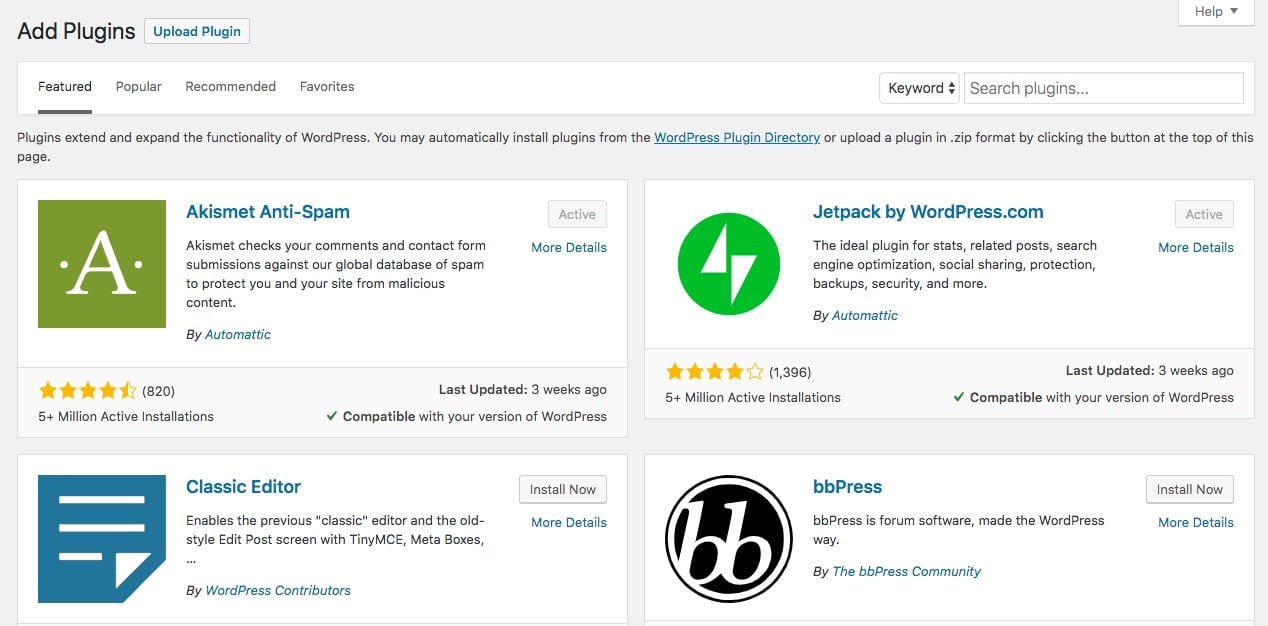 Free Updates
Updating WordPress core is free. Your admin screens include an update screen that you can use to update the software whenever a new release comes out.
It's a good idea to run updates on a staging version of your site first. Kinsta hosting plans include a staging copy of your site that isn't visible to the outside world. If the update should cause a problem (maybe through incompatibility with one of your plugins), you can choose not to update your live site until the plugin has been updated or deactivate that plugin.
Free updates will apply to WordPress core and to free themes and plugins. Whether you can update a premium theme or plugin for free will depend on the charging model. Some themes/plugins require you to pay an annual subscription and you can only update if that is up-to-date. Others charge you once for lifetime access so you can keep the theme/plugin updated forever without paying any more.
Aspects of WordPress That Aren't Free
There are plenty of aspects of WordPress that are free, which is one of the wonderful things about the platform. Newcomers to WordPress are often puzzled by the fact that such a high-quality, useful piece of software can be free. And if you're used to buying software from companies like Microsoft or Adobe, which can charge you a lot for updates or subscriptions, it may seem odd. But as open source software, WordPress core will always be free.
However, that doesn't mean that running a professional WordPress site is free. How much it costs will depend on the needs of your site and whether you're happy paying for the convenience of a premium plugin, for example, when a free one might do the same or a similar job with a little more work.
Aspects of WordPress that you may need to spend money on are:
Hosting
Premium support
Updates of premium plugins/themes
Premium themes
Premium plugins
Once again, let's take a look at each of these in turn.
Paying for Hosting
If you're opting for a self-hosted WordPress site, which will give you more flexibility and freedom than a WordPress.com one, you'll need to pay for a hosting provider.
As well as making it possible for you to actually have a self-hosted site, a good hosting package will give you other benefits:
The ability to install WordPress easily via your hosting dashboard.
Access to DNS settings so you can configure your domain name to point at your site.
24/7 support.
Regular backups.
A guarantee against hacking and downtime.
Commitment to speed, ensuring your site is as fast as possible.
Before choosing your hosting provider, check that they provide all of these things. It can be tempting to opt for cheap hosting, only to find that your site runs slowly or that the support isn't as helpful as you expected. If you want a professional site, it's worth paying extra for quality.
Even if you're on WordPress.com, if you upgrade from the free plan, you'll end up paying for your hosting at the end of the day.
If you ask me, paying for hosting and having the freedom of running your own site is a better investment.
Paying for Support
Your hosting provider should provide support to help you with the aspects of your site that relate to hosting.
And if you need extra support and the free channels aren't enough for you, then you can buy premium support. There is a range of providers which will give you support in return for a subscription.
Paying for Themes
If you can't find a free theme that meets your needs or you want a theme with a drag-and-drop interface (often referred to as a page builder), then you can buy a premium WordPress theme.
There are three main types of premium themes:
Themes designed for ease of use, such as the Astra theme.
Themes designed for extendability, such as the Divi page builder theme.
Standalone themes sold via marketplaces such as ThemeForest.
Before you pay for a theme, take care to check that it meets your needs and that it's safe to install on your site. Specifically:
Check its license: is it distributed under the GPL?
Ask other WordPress users and developers.
Read reviews and articles that mention/review it
Get personal recommendations.
Check if there's a free trial, money back guarantee, or any cooling-off period.
If the theme doesn't meet your needs, you don't want to waste your money.
For more on finding quality premium themes, see our guide to free vs premium WordPress themes.
Paying for Plugins
In addition to the free plugins you can install from the plugin repository, you may find yourself needing to buy premium plugins.
This is very common: there are some things that premium plugins simply do better than their free counterparts.
Situations when you might need to pay for a premium plugin include:
When you've been using the free version of a plugin and realize you need the extra features provided by the premium version.
When the free plugins don't give you the functionality or ease of use you need.
When you need to install a number of plugins all designed by the same developer who provides a subscription option for full access..
When you want to add extra features to a free plugin by buying premium add-ons, such as the add-ons you can buy for WooCommerce.
If you invest in the right premium plugins, they can save a lot of time and give your site a significant boost. When you decide to install a premium plugin, you should be as cautious as you would be with a premium theme. Therefore you should check:
Whether the provider also has plugins in the plugin directory (disreputable companies won't stay there for long).
Reviews for the provider and the plugin.
That the plugin is distributed under the GPL.
What type of support will be provided to help you use the plugin and solve any problems.
If there is a money-back guarantee. It's very frustrating to install a plugin, realize it doesn't do what you need and have wasted your money.
The best source of information about premium plugins is always going to be personal recommendations. Talk to other WordPress users and developers, look on WordPress forums or Facebook groups, and check that other people are happy with the plugin before you buy.
Paying for Updates
If you've installed a premium theme or plugin, you'll normally get at least a year of free updates and support. As most premium plugins and themes work under a subscription model, you'll probably have to pay again to get the updated version of the software and still receive active support.
There are exceptions to this, though: some plugin providers only require you to pay once for lifetime access.
I know, it's tempting to not renew your subscription: after all, the plugin or theme works and you won't lose the code if you don't buy the latest release. But what if the plugin or theme develops a security problem and a new update is released to fix that? What if a new version of WordPress is released and your theme or plugin no longer works? Your site — or some functionality of it — will break. And that's something you don't want to happen. Ever!
Paying for Development
If you can't find any of the free or premium themes/plugins able to meet your needs, and you don't have the time or the skills to code your own, then an option is to hire a developer.
This can range from anything to designing and creating your site, to writing a plugin, to customizing your WordPress theme. Everything depends on your specific needs, time, and budget.
WordPress is designed so that you don't need to hire an expert and pay extra to get yourself a great website. But if you're creating a highly bespoke site or you're running a business and don't have the time or skills to do it in-house, then it can be a good investment.
Again, this is optional. But for some WordPress users, it is something they choose to pay for.