Affiliate marketing involves advertising the products of other companies alongside your own. This form of marketing is effective because it turns your website or blog into an advertising platform for clients. Because affiliate marketing is so effective, there are several ways to do it these days, one of which is using Facebook as an affiliate marketer.
Affiliate marketing is a fantastic way to make money on the side. In this article, I will show you how to start affiliate marketing using Facebook Ads, best affiliate programs for facebook and facebook affiliate marketing rules.
How to start affiliate marketing with facebook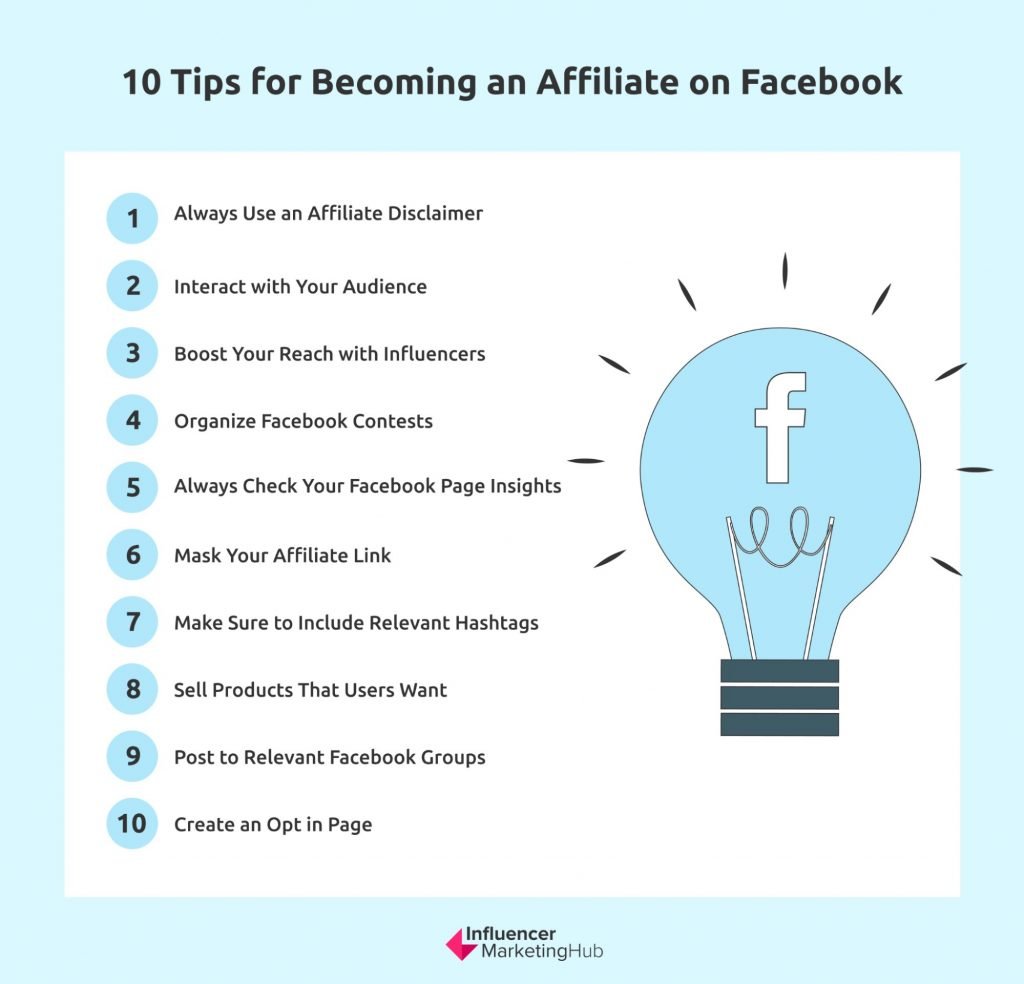 Always Use an Affiliate Disclaimer
As an affiliate marketer, you should be transparent while promoting products in exchange for a commission. Customers will not buy anything from you if they do not believe what you say. Being evasive about receiving compensation for promoting a product can undermine your credibility.
You might even lose more than your audience's trust. The Federal Trade Commission (FTC) regulates product endorsements to prevent affiliate marketers from misleading their customers.
Apart from Facebook, you also need to put an affiliate disclaimer on any of your blog posts containing affiliate links. If you don't know how to write an affiliate disclaimer, you can check websites or blogs in your niche for samples.
---
Interact with Your Audience
Getting people to "Like" your page is an excellent first step in building trust and generating affiliate sales. While it is crucial to maintain a regular posting schedule, do not overdo it by posting your affiliate link all the time. Apart from boring your audience, Facebook might also block your page.
Any time you post content on your blog, remember to share it on Facebook. Increasing the number of articles you post each week will ensure that your content gets seen by the most significant number of people possible, which in turn drives organic traffic to your blog.
80% of your postings should be informative, and 20% should be marketing. Most of the time, your promotional posts should be posted with the intent to sell a particular product. But remember to promote it respectfully.
Always respond to any comments left under your post, either on your blog or Facebook page, or group. Your aim should be to establish a long-lasting relationship with your audience.
---
Boost Your Reach with Influencers
By using influencers' large and active followings, you may improve your exposure and boost the number of visits to your website, both of which are beneficial. Using Facebook's search feature, you may find relevant pages and influencers in the same niche that you are.
To see whether they'd be interested in promoting your content to their followers, you could get in touch and extend an invitation. Focus on micro-influencers if your website is just getting started.
Ensure that the influencers you choose are very relevant to your target audience. An influencer with a huge following will only distribute high-quality content if it provides actual value to those who follow them. So always make sure that your content is worthy of promotion.
---
Organize Facebook Contests
Marketers have long used competitions and the potential to win something free to promote their affiliate products. Run a contest to get more people interested in your Facebook page and expand your fan base.
You can ask your audience to sign up for your newsletter so that they will be qualified to join the contest. This is also an opportunity for you to grow your email subscribers. The more valuable your reward is to your Facebook audience, the more likely you will obtain a response.
There is no need for the reward to be expensive, but it should be something that you know your audience needs. It can be a premium e-book or perhaps a small cash reward. Product owners utilize this method to get affiliates to promote their product, which shows that it works.
---
Always Check Your Facebook Page Insights
As part of your effort to engage your audience, you have probably published several forms of content. But how do you know which one resonates with your audience the most? Is there anything else you think you should give a shot? When visitors arrive on your Facebook page, how do they interact with it?
These questions and more can be answered by simply studying your Facebook insights data. It is a free tool offered by Facebook that provides information on the performance of your Facebook page. Insights include everything you need to monitor your audience's actions on your page.
---
Mask Your Affiliate Link
Link length varies based on the program you promote. Long links appear shady and might look spammy to your audience. You can shorten your links easily using affiliate link masking plugins such as the "Pretty links WordPress plugin." Advanced features like geo-targeting and link management may be accessed via the plugin's WordPress dashboard.
Affiliate link masking tools not only make it easy to monitor and manage your connections, but they also show your links in a polished, branded appearance. Pretty link is an excellent plugin for seasoned affiliate marketers, but newbies who wish to stick to other free choices have good options available.
---
Make Sure to Include Relevant Hashtags
Use hashtags to organize posts and increase conversation. You can also target a specific audience on Facebook through them. Hashtags are commonly used on Instagram and Twitter, but you can also use them on Facebook.
While using hashtags, make sure they are meaningful to the content. Using a random trendy hashtag would only make your content appear as spam.
Your Facebook page and website can gain traction if you use hashtags, as people can also find your posts using them. You may start a conversation on Facebook using a popular hashtag, or you can join one that has already been created.
When people use hashtags linked with your page when talking about your content or campaigns, you'll get additional exposure. If you use your hashtags strategically, people will advertise your page on your behalf.
---
Sell Products That Users Want
Many novice affiliate marketers make the mistake of selling many different products at once. When you introduce a new product, you must be sure it will benefit your audience.
Bear in mind that you are building a brand, and your customers will come back for more if you sell quality products. You need to provide the customer something of value in exchange for their money.
To avoid selling random products every day, you would need a long-term plan. First, spend some time investigating valuable items that your target audience would love. Sell that product for a while and monitor your insights. You can experiment with a few products in that niche and finally settle on one.
---
Post to Relevant Facebook Groups
A Facebook Group is a meeting place group of people who have a common interest or outlook on a subject matter. It facilitates communication between persons who share a passion. Fortunately, Facebook enables a single user to join up to 6,000 groups so you can join as many groups as possible.
You may either start your own Facebook Group or join one already established in your niche, as we mentioned earlier.
Make sure you don't come off as self-promotional even if you created the group, and focus on sharing quality content instead of just promoting your products.
---
Create an Opt in Page
An opt-in page is a web page meant to convert visitors into subscribers by offering them a lead magnet in exchange for their email address. Marketers utilize this method to persuade more consumers to provide their personal information.
The insights acquired from these data enable marketers to engage with their audience via high-quality and tailored email campaigns. There is a tendency that not every customer who goes to your affiliate landing page would buy immediately.
This is why it is good you use an opt-in page to collect their emails before sending them to the landing page. You can then send them the same offer through their email if they haven't purchased the product you are promoting.
best affiliate programs for facebook
ClickBank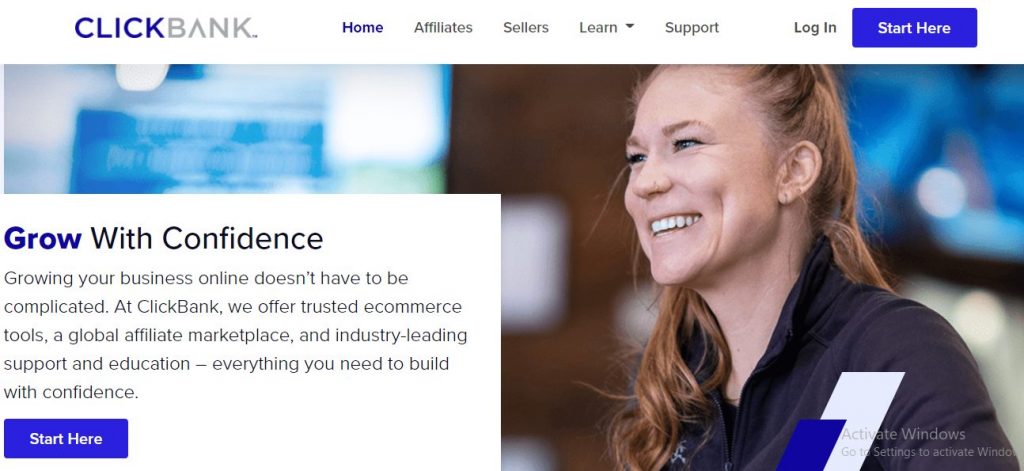 ClickBank is our first choice for starting an affiliate marketing business on Facebook. Even though they have expanded into physical products, ClickBank's concentration is mainly on specialty e-books, e-courses, and e-courses.
ClickBank is an excellent option for those who are just getting started in affiliate marketing since it enables you to join for free, and the approval procedure is almost instantaneous. The only downside is that ClickBank is not available in every country.
---
Amazon Associates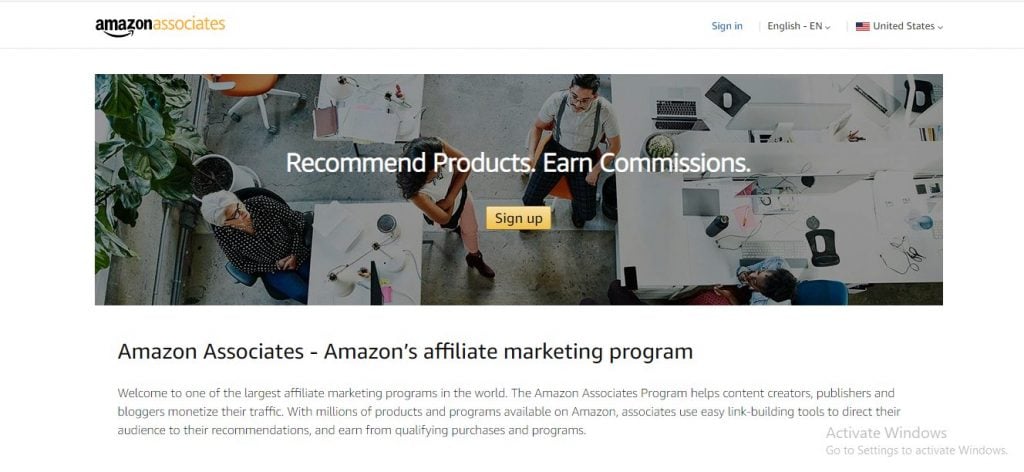 Beginners and seasoned affiliates alike may benefit from Amazon's Affiliate Program, which is simple to utilize. When it comes to advertising and links, Amazon has millions of products to choose from, making it easier for your visitors to get what they want.
All you need to do is go over to the amazon associates website and sign up for an account. You can get paid up to 20% depending on your niche and the product you are promoting. Once you have made a sale, you'll start getting your commission in 60 days.
---
eBay Partner Network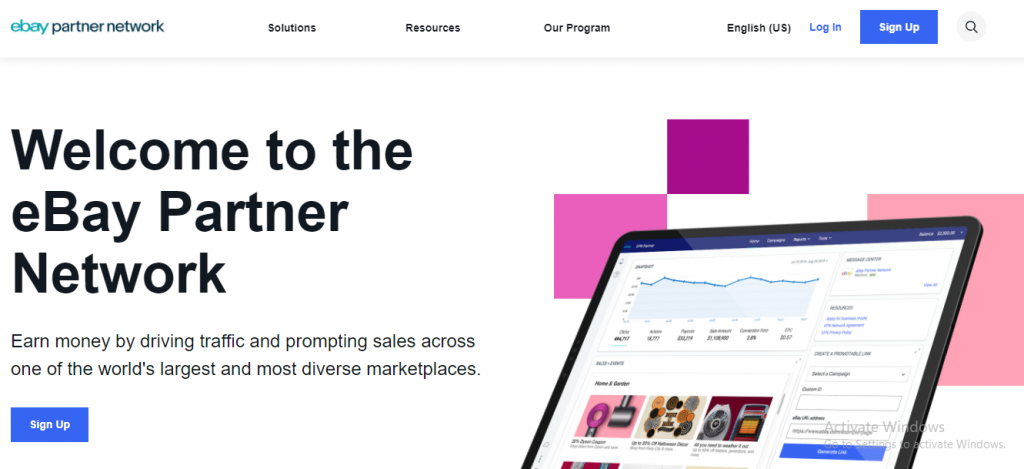 eBay connects 183 million customers across the globe, ranging from global brands to small local businesses, and has evolved from its roots as an auction site for used items. There are approximately 1.4 billion listings available at the moment, with 80% of those listed being new products.
The eBay Partner Network is entirely free to sign up, and you get approved within hours after your application has been reviewed. You can earn up to 6% commission on any sale you make, which might be low, and you get paid after 21 days. The minimum payout is $10.
---
Fiverr Affiliate Platform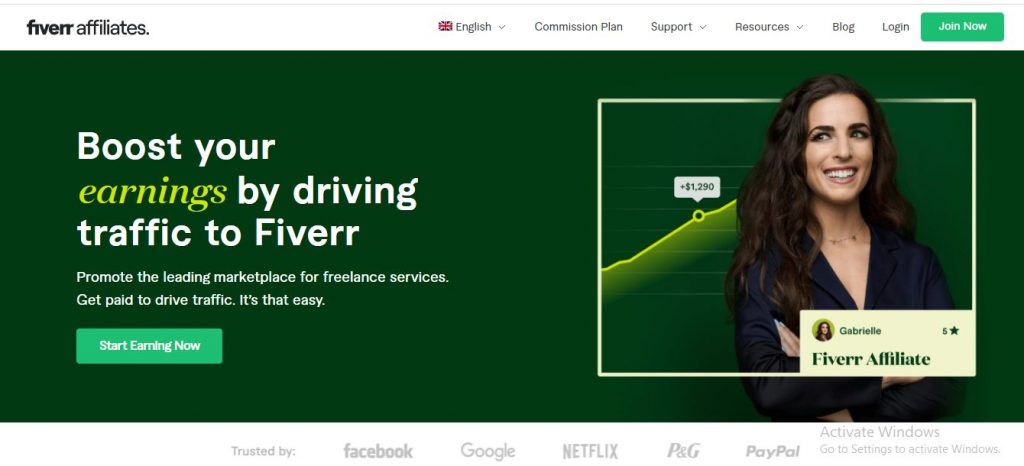 From writing and transcription to programming and graphic design jobs and other business services, possibilities are endless when you join the Fiverr affiliate program.
With the hybrid, $10 CPA/10% rev share model, affiliates may earn up to $150 in CPA for each new customer or up to $1,000 per sale after marketing these services. The Fiverr affiliate program cookies last for 30 days.
This means that when you refer someone to Fiverr, they should make a purchase within 30 days in order for you to get a commission. An advantage of the Fiverr affiliate program is that if you promote a particular service and the customer ends up ordering another, you will still get paid. The minimum payout is $100.
---
Shareasale
Shareasale is a huge affiliate marketing network with many affiliates promoting their products. This affiliate network has a long history, having been in operation for almost two decades. A few of their select markets to target include B2B, fashion, home and garden, and food and beverage.
Technology-wise, their platform is well detailed and easy to navigate. Because of its emphasis on openness, timeliness, accuracy, and efficiency for affiliates, Shareasale has built a strong reputation for itself as a trusted affiliate network. Their tracking cookies last for 90days, and the minimum payment threshold is $50.
facebook affiliate marketing rules
No matter what anyone says, affiliate marketing isn't dead. A lot of people think that affiliate marketing had its moment and now it's on a downward spiral. Making money online as an affiliate marketer worked for people five and ten years ago because the industry was still growing. Now, many claim the market is saturated.
This may be so, but it doesn't mean that there isn't a place for you somewhere in it. Additionally, as with most industries, the landscape is constantly shifting and changing. If you go about affiliate marketing today with the mindset people had five years ago, then you might run into issues. But if you know today's trends and can forecast what's coming up in the industry, you'll have a much better chance of success.
One thing that has been proving to change the face of affiliate marketing as well as the way people buy consumer products is Facebook. Practically everyone is on Facebook these days, from old to young, and all over the world. If you're wanting to reach a big audience, you might not need to look much further than one of the most visited websites and popular apps. Facebook allows people to see your posts and updates, like them, interact with them, comment on them, and share them. For Facebook's algorithm, the more genuine interaction you get, the more the post will be seen by others. Well-crafted updates, posts, and ads can then result in profitable affiliate sales. So how can you get started with Facebook affiliate marketing?
---
Start Taking Our Affiliate Marketer Training For FREE Here!
---
Share Things On Your Personal Page
This is obviously the easiest way to start affiliate marketing on Facebook, but also the least effective. Yes, you'll have a group of people who know you, trust you, and who will see your posts, but they may not want to constantly feel like you're selling to them.
The solution: don't sell. Or rather, do it, but in a way that doesn't feel overly promotional or sales-focused. Try out writing different types of updates and see what sticks and what doesn't. Examine the wording you use, the links you post, and what types of posts get the most interaction. This is a great way to try out Facebook affiliate marketing before you try the next more professional suggestion.
Create A Facebook Group
Just like you might consider making a website where you post information with affiliate links, you can also do this directly in Facebook. Then anyone who clicks on your links and/or makes purchases will result in you getting a commission.
The first step to creating a successful group is choosing your niche. I talk a lot about niches because it's an incredibly effective way to attract the right kind of audience! If you're going to put in the effort into well-made posts, you want to make sure they will resonate with your ideal client. Know the demographics of the people you're targeting so that you can promote the right kinds of products and services to them.
A Facebook group can start with just a few of your friends and grow from there. Your friends will already trust you and your opinion, and their likes and shares will get you more attention and will help you reach others. Don't only post products that you receive a commission from—this usually comes off as scammy. Instead, try to provide useful products and posts, even if not all of them are affiliate links. When people go to your group page and see that you promote a variety of different things, they'll then put more trust in your opinion and view you as more honest.
Create A Page
If you've already got a blog set up, then you should definitely create a Facebook page for it. This is a wonderful way to promote your blog posts, affiliate links, and other relevant information in a fun way.
Your page could operate very similarly to a group, although there is slightly less interaction with a page. Groups, by their very nature, encourage interaction. Pages are more to keep your audience updated and to keep them abreast of your latest content. Groups can sometimes feel a little overwhelming to manage, and pages are more straightforward. If you can continue to post useful content for your audience, then you'll be able to get them equally engaged—ask questions, share videos, and, of course, link to your affiliate link posts or directly to certain products and services.
Facebook Ads
Done correctly and well, Facebook ads can really have an impact on your visibility online as well as increasing your sales. Facebook does have strict guidelines as to what your ad can look like, and it often requires submitting an ad placement request more than once. Tenacity is key, and it can literally pay off.
Your ads can promote certain products and affiliate links if you'd like, but they're also powerful when used in conjunction with a blog. The choice is yours, but one thing is for sure: images are key. Test out images so you can find the best one for your ad. Remember that humans are visual creatures, and Facebook can sometimes overwhelm people, so keeping your images eye-catching and engaging will result in more sales.
Promoting Posts
If doing an entire ad campaign sounds a little daunting, consider promoting selects of what you post. When you see something is performing well, you can give it a bit of a boost to increase sales even more. This is a great middle ground for people interested in increasing their affiliate marketing game on Facebook but don't have the time, energy, or desire to create strong images for an ad campaign.