What are the best web hosting companies in Australia? How do you know which website host to choose for your site? There are over a hundred hosting companies in Australia to choose from. Who will provide you with the best results? Let's find out.
Best Web Hosting In Australia
1. HostPapa Australia – Best Web Host Overall
About
Price: AUD $2.95
Disk space: 100 GB
Support: Phone, Live Chat, Tickets
Features
~20-500ms Load Time
99.99% Uptime Guarantee
24/7 Support
30-Day Money-Back Guarantee
Website Builder
Free Site Transfer
Free Domain Registration
Free SSL
400+ Applications Supported
CloudLinux Servers
As far as cost to value ratio goes, HostPapa is near impossible to beat. For only AUD $2.95/mo, you get 100GB of SSD disk space, unlimited bandwidth, a free domain name, and great 24/7 support!
HostPapa also knows how to manage server resources correctly, so all accounts have enough power to keep sites running at max performance! As for speed, HostPapa's data centres are very good. They boast 99.9% uptime and they deliver.
They offer a lot of other freebies too, like free migration from your old host if needed. They even offer a 30-day money-back guarantee if you're not happy, it's pretty impressive.
So if you're looking for quality hosting that's affordable, these guys bring the goods! Aside from having a handy website builder, they of course also support all the popular CMSs like WordPress, Joomla and others (400+ apps with 1-click installers).
They use the industry-standard cPanel as their control panel. It has all the functionalities from file manager, email creation, and add-on domains to script installers and security tools.
On a cool side-note, they launched as one of the first green hosts around, and they've kept it up, offsetting all power consumption with eco-friendly, green energy sources.
A lot of services on offer
HostPapa offers shared hosting, reseller hosting, VPS hosting and WordPress hosting, as well as web design services, G Suite, and Office 365 integration support. They can also take care of your domain name registrations (and yes that includes .au names like .com.au, .net.au, etc).
Support that works!
HostPapa provides 24/7 customer service through phone, live chat, and support tickets. Usually, budget hosts like these lack in support, but HP's support is surprisingly responsive and helpful in fixing issues! If you need more knowledge, you can join a weekly webinar or book a virtual training session (free for 30 minutes) with their hosting expert. Also, they have a well-rounded knowledge base for FAQs.
Our take
In the end, these guys are very experienced, affordable, and offer quality hosting at a GREAT price of only AUD $2.95/mo (Exclusive MangoMatter discount, down from $8.99)!
A no-brainer in our book!
Hosting Plans
| Plan | Websites | Disk Space | Price / Month |
| --- | --- | --- | --- |
| Starter | 1 | 100 GB | $2.95 |
| Business | Unlimited | Unlimited | $2.95 |
| Business Pro | Unlimited | Unlimited | $12.95 |
Pros
Plenty of SSD storage
A lot of freebies
Great 24/7 support
Charges in AUD
Can take care of your .com.au needs
30-day money-back guarantee
Cons
2. SiteGround – Best Web Host for WordPress
URL: www.siteground.com.au
Price: AUD $3.99
Disk space: 10 GB
Support: Phone, Live Chat, Tickets
Features
~100ms Load Time
99.99% Uptime Guarantee
24/7 Support
Free SSL, CDN
Daily Backups
500+ Applications Supported
Google Cloud with SSD-persistent Storage
SiteGround is another great web host, not only are their data centres blazing fast (choose the Sydney data centre for local sites), but they even have their own in-house caching system (SuperCacher) to serve your sites as fast as possible.
As secure hosting is an absolute must, we really like their in-house security setup that crawls all their hosted sites, constantly keeping an eye out for potential security issues. They also have a dedicated security team that tracks new vulnerabilities on a daily basis, and then patches those issues to keep everything running smoothly. It's very impressive and we can see why Siteground technically falls under the category of managed WordPress hosting (which is usually a lot more expensive). They're one of the best WordPress hosts for Australia.
They have 3 web hosting plans for shared hosting, starting at only $3.99/mo (down from $19.99)! Oh, + they have a 30-day money-back guarantee too.
SiteGround Control Panel
To maintain all the mentioned features, from storage to emails, SiteGround has a fantastic control panel. It's sleek, intuitive, and has all the needed functionalities. In our opinion, it's perhaps the best control panel from a UI/UX perspective.
Very Responsive Support
SiteGround provides a lot of options for customer service including a Knowledge Base, Tutorials, Live Chat, Phone, and Ticket Support. According to the company, Phone and Live Chat Support will help you get instant replies while Tickets would take 10 minutes on average, which is quite impressive.
Siteground also allows you to register any domain names with them if you haven't already got them.
Smooth Performance
When it comes to speed, SiteGround has plenty to offer. They provide SSDs for faster website loading times compared to traditional drives, as well as extra tweaks and custom setups to optimise speed. As mentioned before, they also have a custom-built caching plugin called SuperCacher for even faster loading speeds (run a quick speed test on any SiteGround site and you'll see how fast it is). Data centres of the company are located in the US, UK, AU, NL, and SG, so their global reach is very good. And of course a 99.9% Uptime Guarantee.
Hosting Plans
| Plan | Websites | Disk Space | Price / Month |
| --- | --- | --- | --- |
| StartUp | 1 | 10 GB | $3.99 |
| GrowBig | Unlimited | 20 GB | $5.99 |
| GoGeek | Unlimited | 40 GB | $9.99 |
Pros
Great security
Multiple hosting servers around the world
Free CDN, SSL, etc
Recommended by WordPress
Unlimited bandwidth
Cons
Renewal prices can be a bit high
3. A2 Hosting – Best Web Host for Resellers
About
URL: www.a2hosting.com
Price: USD $2.99
Disk space: Unlimited
Support: Phone, Live Chat, Tickets
Features
~50-250ms Load Time
99.99% Uptime Guarantee
24/7 Support
DDOS Protection
Free SSL
Anytime Money-Back Guarantee
Free Site Transfers
Cpanel Control Panel
Eco-friendly Hosting
With 24/7 support, super-fast SSD drives, unlimited storage space & a Singapore-based data-centre for max speed for Aussie sites… they're a well-deserved #3 on the list and one of the best hosting providers when it comes to reseller and eCommerce hosting!
The reseller king!
There are merely a few web hosting providers better than A2 Hosting, as you can notice in this list. However, there's probably no provider better than A2 at reseller hosting.
A2 Hosting's reseller plans are legendary. They have four of these, including…
Bronze: Priced $13.99/month, this comes with 30 GB SSD storage & 400 GB transfer.
Silver: Costing $18.47/month, Silver includes 75 GB storage and 600 GB transfer.
Gold: Starting at $24.41/month, this plan offers 150 GB disk space and 1000 GB transfer.
Platinum: The best of all, costing $40.91/month, Platinum includes 200 GB storage and 2000 GB transfer.
Other plans
A2 Hosting offers a variety of web hosting solutions, from shared hosting & WP hosting to VPS and dedicated hosting plans.
They offer 3 shared hosting packages, their cheapest web hosting plan starts at only USD $2.99/mo.
Useful Support
They offer 24/7/365 customer service through all the usual channels like Chat, Phone, and Support Tickets. Reviews are pretty good and things usually get resolved quite fast. They also offer free site migration to make the transition to their services as smooth as possible.
Turbo Servers
A2 Hosting is very proud of their "Turbo Servers", which provides 20x speed compared to your average server. They do this through a combination of an enhanced Apache alternative, more resources per user and fewer users per server. They also have custom caching and, of course, use SSD's. It's a very good setup with a reliable uptime. They have 4 data centres around the world for a decent global reach comparable to SiteGround.
Hosting Plans
| Plan | Websites | Disk Space | Price / Month | Features |
| --- | --- | --- | --- | --- |
| Startup | 1 | 100 GB | USD $2.99 | Great for a single site |
| Drive | Unlimited | Unlimited | USD $5.99 | More sites + resources |
| Turbo Boost | Unlimited | Unlimited | USD $6.99 | 20x faster |
| Turbo Max | Unlimited | Unlimited | USD $12.99 | 20x faster + 5x more resources |
Pros
4 global data centres
Unlimited SSD storage
Unlimited data transfer
Anytime money back
Cons
4. Hostinger – Cheap Web Host
About
URL: hostinger.com
Price: USD $1.99
Disk space: 10 GB
Support: Live Chat, Tickets
Features
~20-250ms Load Time
99.9% Uptime Guarantee
hPanel Custom Control Panel
Cache Manager
GIT Support
Free SSL
Free Domain
Zyro Website Builder
Hostinger is experiencing some insane growth at the moment, and with good reason too! They manage to provide web hosting solutions at very affordable rates while maintaining great quality.
The thing we liked was their onboarding process for new users, the setup was one of the smoothest we've been through (and we've been through a LOT of hosts over the years). Add to that the fact that they have servers around the world (including in Singapore).
And if your target market isn't in Australia, you can just choose any of the additional following locations to get your site hosted: United States, United Kingdom, Netherlands, Lithuania, Brazil, or Indonesia.
As for hosting plans, they have the usual shared hosting (which is what the majority of people need), WordPress hosting (same as their shared hosting but it's there just to highlight that they know how to host WP sites very efficiently), Cloud hosting, VPS, and email hosting. All their plans come with the usual SSD fast storage, 99.9% uptime guarantee, Free SSL certificate, unlimited bandwidth, etc.
A Custom Control Panel
We do need to mention their custom-built control panel, it's quite impressive. While most hosts use cPanel as the control panel for adding and deploying sites, Hostinger created their own. It looks a lot cleaner than cPanel and definitely is a nice value-add to their services. It's called hPanel and it's a very easy to use, intuitive control panel anyone can navigate through regardless of their tech knowledge. Moreover, it doesn't lose out on any functionality…from emails to domain names, you can manage everything.
They even own Zyro, one of the best website builders for Australia.
24/7 Support
When it comes to customer support, they have a pretty detailed knowledge base, complete with tutorials to help you get started. They also offer 24/7/365 live chat support in case you need it. In general, support is responsive and helpful.
In Summary
They know what they're doing, you get quality hosting at very affordable prices and a decent support team to back it up. And just in case you're not happy with their services, they even offer a 30-day money-back guarantee.
They have 3 shared hosting plans, with the cheapest being only USD $1.99/mo (down from $7.99).
Hosting Plans
| Plan | Websites | Disk Space | Price / Month |
| --- | --- | --- | --- |
| Single Shared Hosting | 1 | 50 GB | USD $1.99 |
| Premium Shared Hosting | 100 | 100 GB | USD $2.99 |
| Business Shared Hosting | 100 | 200 GB | USD $3.99 |
Pros
Easy to setup
Great performance
Super affordable
Fast data centre in Singapore + global network
Cons
Charges in USD, still absurdly cheap though
5. MediaFortress – Best Australian Web Hosting for Small Business
About
Price: AUD $7.70
Disk space: 1 GB
Support: Phone, Tickets
Features
100% Australian
24/7 Support
Daily Backups
99% Uptime Guarantee
SSH Access
30-Day Money-Back Guarantee
Web Design & Marketing Services Available
They started in 2009, are still 100% Australian owned and definitely know the industry quite well.
While they're definitely on the expensive side and their basic plan only includes 1 site and 1 GB of storage, the advantage they have is that they're also a digital marketing agency, so they can not only help with hosting but also with the site build and marketing itself. A one-stop shop basically. Their services include web design, SEO, PPC, social media marketing, email marketing, etc.
They use the standard cPanel control panel to help with managing your sites, this also comes with the usual easy one-click installers for most of the popular content management systems like WordPress, Joomla, Drupal, etc.
Media Fortress takes server security very seriously. Aside from daily backups, they also have a firewall and spam protection measures in place to keep the data centres clean.
We haven't had to use their customer service, but they offer to help out either over the phone, or through support tickets. Because they're a smaller hosting company, the support is usually more personal, with people that care about their reputation.
Also no complaints about the speed. They're using well-optimised local servers and guarantee a 99% uptime guarantee, great for your average business sites or personal blogs.
They're a solid choice for those wanting to get their website built, hosted, and marketed by the same company.
Hosting Plans
| Plan | Websites | Disk Space | Price / Month |
| --- | --- | --- | --- |
| Basic | 1 | 1 GB | $7.70 |
| Business | 2 | 3 GB | $15 |
| Professional | Unlimited | 10 GB | $30 |
Pros
One-stop shop
Quality services
Cons
6. GreenGeeks – Best Green Web Hosting for Beginners
About
URL: www.greengeeks.com
Price: USD $2.95
Disk space: Unlimited
Support: Phone, Live Chat, Tickets
Features
~50-450ms Load Time
99.99% Uptime Guarantee
24/7 Live Chat Support
Free Domain
Free SSL
30-Day Money-Back Guarantee
Free Site Transfers
LSCache, MariaDB
Custom Security Rules
Green Hosting (300% Energy Replacement)
GreenGeeks is going through a massive growth spurt at the moment. The benefit they have is that they're putting back 300% of the energy they use back onto the grid, very very cool.
They buy more than 600,000 KiloWH/year in the form of RECs. RECs or renewable energy certificates are market instruments that let the company pay a wind energy generating company to produce on their behalf.
Their services and support are pretty impressive, but they don't have any data centres near Australia (yet), hopefully, they'll get that sorted soon. We really like their custom-built security tech to keep everything running clean and smooth. While they have a website builder, they also support most major CMS's out of the box.
GreenGeeks offers shared web hosting solutions (great for small Australian businesses and blogs), reseller hosting, dedicated servers, WordPress hosting, and VPS hosting. They also have a 30-day money-back guarantee if you're not happy with their services.
They have always been good with support. They offer it 24/7, via the phone, chat, or support tickets. Their support staff are pretty knowledgeable and are well-trained. If the problem is very basic, you can look into their resources. They have tutorials for many things, including WordPress, Elementor, cPanel, Emails, Joomla, Drupal, Magento, and more.
When it comes to speed, they know how to optimise their hosting servers, and it shows in the speed they offer. They use a combination of fast SSD's, PowerCacher, and PHP7 to really try and get as much juice out of their servers as possible, with great uptime consistency. Pretty impressive!
Their cheapest web hosting plan starts at USD $2.95/mo.
Hosting Plans
| Plan | Websites | Disk Space | Price / Month | Features |
| --- | --- | --- | --- | --- |
| Lite | 1 | 50 GB | USD $2.95 | Standard Performance |
| Pro | Unlimited | Unlimited | USD $4.95 | Better Performance |
| Premium | Unlimited | Unlimited | USD $8.95 | Best Performance |
Pros
Eco-friendly
Affordable
Great support
Unlimited disk space
Cons
7. Panthur – Great Local Host for eCommerce
About
URL: www.panthur.com.au
Price: AUD $6
Disk space: 10 GB
Support: Phone, Tickets
Features
~200ms Load Time in Australia
99.9% Uptime Guarantee
Australian Servers
24/7 Support
Free SSL
30-Day Money-Back Guarantee
Website Builder
Panthur is an experienced Australian web hosting provider that initially started as a non-commercial organisation. They offer super-fast web hosting services and 24/7 customer support (which is also lightning fast). They're a local web host with servers in AU, though have none overseas if you want to target other countries.
Panthur has 3 main plans that you can additionally customise: Economy, Business and Stealth hosting, each level increasing in server resources as you go up. All include free SSL certificates.
They also offer domain name registrations and reseller hosting web designers and agencies. They got bought by Hostopia and while the switch was a bit rocky, everything looks to be back normal… including their fast support.
Their cheapest web hosting plan starts at $6/month (though we recommend going with their bronze business plan for that perfect value/cost balance).
Panthur provides 24/7 support through phone and support tickets. They're usually pretty fast at responding, and most issues get resolved quickly.
As for speed, while they don't have a custom caching plugin like SiteGround… as their data centres are located in AU, and combined with the power of their servers, loading times are very good across the board (perfect for online stores), just make sure you choose a hosting plan that fits your site (meaning that you probably shouldn't choose their economy plan to host a massive forum).
As they use cPanel as their control panel, installing your favourite CMS is a breeze with one-click installers for almost all of them.
Panthur's security measures are also worth noting. From encrypted cPanel & email access, a custom web application firewall and realtime blacklist monitoring, to hotlink/leech protection… they make sure you're protected at all times.
And last but not least, they offer a Click Restore system which enables you to create and deploy backups at any time, and it's free with every plan.
Hosting Plans
| Plan | Websites | Disk Space | Price / Month |
| --- | --- | --- | --- |
| Mini | 1 | 2 GB | $6 |
| Advanced | 4 | 6 GB | $11 |
| Professional | 6 | 10 GB | $16 |
Pros
Local web host
Great performance
Good support
3 data centres in AU
Cons
No overseas servers
Only 2 GB of storage on their basic plan
8. WPHosting – Local WordPress Host
About
Price: AUD $19
Disk space: 5 GB
Support: Phone, Live Chat, Tickets
Features
~250ms Load Time (TTFB)
Australian Servers
1 Click Staging for Premium Plans
24/7 100% Australian Support
GZIP, HTTP/2, PHP7+, MariaDB
Free SSL
30-Day Money-Back Guarantee
Free Site Migration
Always-On DDoS Protection
We do like these guys. If you're running WordPress sites and have the budget, they'll make sure your site runs silky smooth. That being said, there's no phone support on their basic plan and I didn't see any free SSL options either.
What they do offer is high-quality hosting for WordPress, including premium features like DDOS protection, daily automated backups, and malware scans to keep everything super secure.
They offer support through all the usual channels like Phone, Live Chat, and Support Tickets. As they offer WP hosting, their support staff are experts at WordPress!
Their servers are fully optimised for running WordPress, and it shows. The loading times are very impressive, they use SSD's, PHP7, Gzip, and MariaDB to optimise speed! They also host some really big brands, so the quality of their hosting services is definitely on point!
Their most affordable web hosting plan is AUD $19/mo and comes with 5 GB of SSD storage.
Hosting Plans
| Plan | Websites | Disk Space | Price / Month |
| --- | --- | --- | --- |
| Start Up | 1 | 5 GB | $19 |
| Business | 4 | 10 GB | $29 |
| Corporate | 6 | 20 GB | $49 |
Pros
WordPress hosting kings
Great support
Cons
Probably won't work if you're on a budget…
Or don't use WordPress
9. Crucial – Australian Green Host
About
URL: www.crucial.com.au
Price: AUD $22.90
Disk space: 50 GB
Support: Phone, Tickets
Features
~300ms Load Time (TTFB)
Australian Servers
24/7 Support
Free SSL
CloudLinux Servers
Daily Backups
Free Site Migration
DDoS Protection
Since they started in 2003, Crucial has grown quite a lot, known for its simplicity. At $22.90/mo though, there are far cheaper options available that come with more features.
When it comes to managing and configuring your sites, they use cPanel like most hosts. This makes it easy to install whatever CMS you prefer, as well as dive deeper in the file system if needed, configure email spam filters, and much more.
They offer WordPress hosting, reseller hosting and VPS hosting (which comes in 5 flavours and includes solutions for Windows and Linux). Additionally, they also offer Gsuite services to set up and manage your professional email accounts.
Their real strength we think is their range of VPS options we alluded to above. They offer both managed and unmanaged cPanel VPS, Windows, Linux, and something they call Blaze SSD VPS hosting. This last type is a Cloud VPS service that has insane performance and offers easy scalability. VPS pricing ranges from $10/mo all the way to $500+/mo for super-powerful servers.
Crucial offers 24x7x365 support through phone and support tickets. Reviews are generally positive.
When it comes to security, it's rock-solid with daily backups and DDOS protection available on all plans. SSL certificates are also free, which is great as they're a must these days (definitely if you want to rank in Google… they prefer secure sites).
With local Australian servers running on SSD's, speeds are solid.
Hosting Plans
| Plan | Websites | Disk Space | Price / Month |
| --- | --- | --- | --- |
| Web Hosting | 2 | 50 GB | $22.9 |
| Web Hosting Plus | 3 | 100 GB | $32.9 |
| Web Hosting Advanced | 4 | 150 GB | $42.9 |
Pros
Great at VPS hosting
Simplicity is not a bad thing
High-quality services
Cons
10. HostingCloud
About
Price: AUD $3
Disk space: 5 GB
Support: Tickets
Features
~800ms Load Time (TTFB)
Australian Servers
100% Uptime Guarantee
24/7 Support
Free SSL
Daily Backups
Free cPanel Migration
DDoS Protection
The new kids on the block, like brand-spanking new. They're definitely cheap and offer free SSL certificates, but like most Australian web hosts, are tied to AU unless you use a CDN (which SiteGround and A2 Hosting, for example, offer for free). They look perfect for small businesses wanting to get their feet wet.
They have 3 plans, one with 5 GB of SSD storage, 10 GB, and 20 GB. Both include cool features like 7 Day Backup Retention and Network DDoS Protection. You're allowed 1 website per plan, so if you need additional sites, you'll need to buy more plans… which makes sense.
Like most other web hosts, Hosting Cloud uses cPanel. It's easy to use and comes with handy tools like one-click installers for WordPress, Joomla, it has email and spam filter management features, a file manager, DNS zone editor, and much more.
We do like that they offer free cPanel migrations from other hosts, it saves you a few dollars trying to find a web dev to migrate and deploy the site for you.
As they're a budget host, they only offer support through tickets, though they're pretty responsive, so generally a thumbs up from us.
As for speed, they use Dell PowerEdge servers running on SSD's. Sites run as smooth as expected, pretty good for a budget host imho.
Hosting Cloud also offers domain name registrations if you don't have your domain name yet. This, of course, includes .com.au domains. It's good to know that they offer domain privacy for free (though it's not available for .com.au names).
Hosting Plans
| Plan | Disk Space | Price / Month |
| --- | --- | --- |
| Lite | 5 GB | $3 |
| Pro | 10 GB | $5 |
| Pro Max | 20 GB | $8 |
Pros
Cons
Might need better support options
No overseas servers
best web hosting provider in australia
1. HostPapaAU
The Best Green Hosting Company
Founded in 2002, HostPapa started offering hosting services in 2005 and has never looked back. Its USP are user-friendly features, prompt customer support, and engagement in various projects for the environment.
These factors make HostPapa a hit among beginners and startups. Its simple interface and advanced features allow anyone to create a beautiful website compatible with different devices. And the ease of using it does not end there. Even the cPanel control panel and dashboard make multitasking a breeze.
Additionally, site migration is easy and free if you are already using a shared web hosting service. Transfer your domain name to HostPapa and set up your website on powerful and fast servers, with a guarantee of 99.9% uptime.
For further convenience, HostPapa is compatible with more than 400 apps and business tools like WordPress.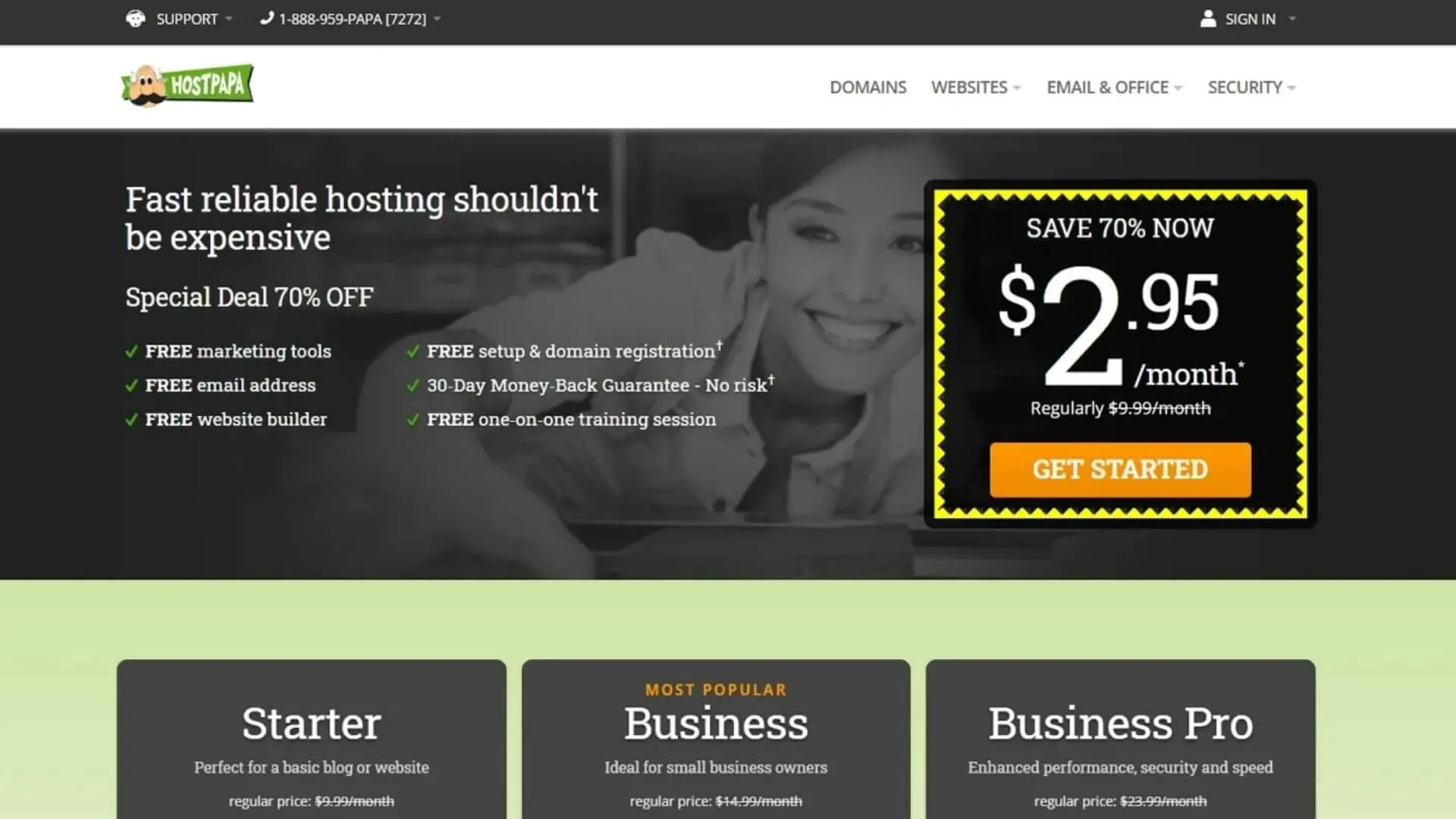 Pros
24/7 customer support
Eco-friendly hosting
Affordable plans
User-friendly yet advanced interface and settings
Large disk space
30-day money-back guarantee
Cons
Lack of essential features in the basic plan
2. A2 Hosting
The Best Web Hosting Service For Resellers
24/7 customer support, unlimited storage space, and fast SSD drives — A2 Hosting has it all! No wonder it claims to provide 20x faster hosting and ensures better SEO rankings and conversion rates.
A2 Hosting lives up to its lofty claims with features like unlimited SSD space, free automatic backups, speed-optimised WordPress, and more. If this sounds like rocket science to you, you can always hit up their 24/7 guru crew support.
Besides reseller hosting, this company provides shared hosting, WordPress, VPS hosting, and dedicated hosting. Hence, it can easily replace your current web host with its free site migration process.
You have the freedom to use WordPress, Joomla, etc., or try your hands at the easy DIY website builder provided by A2 Hosting.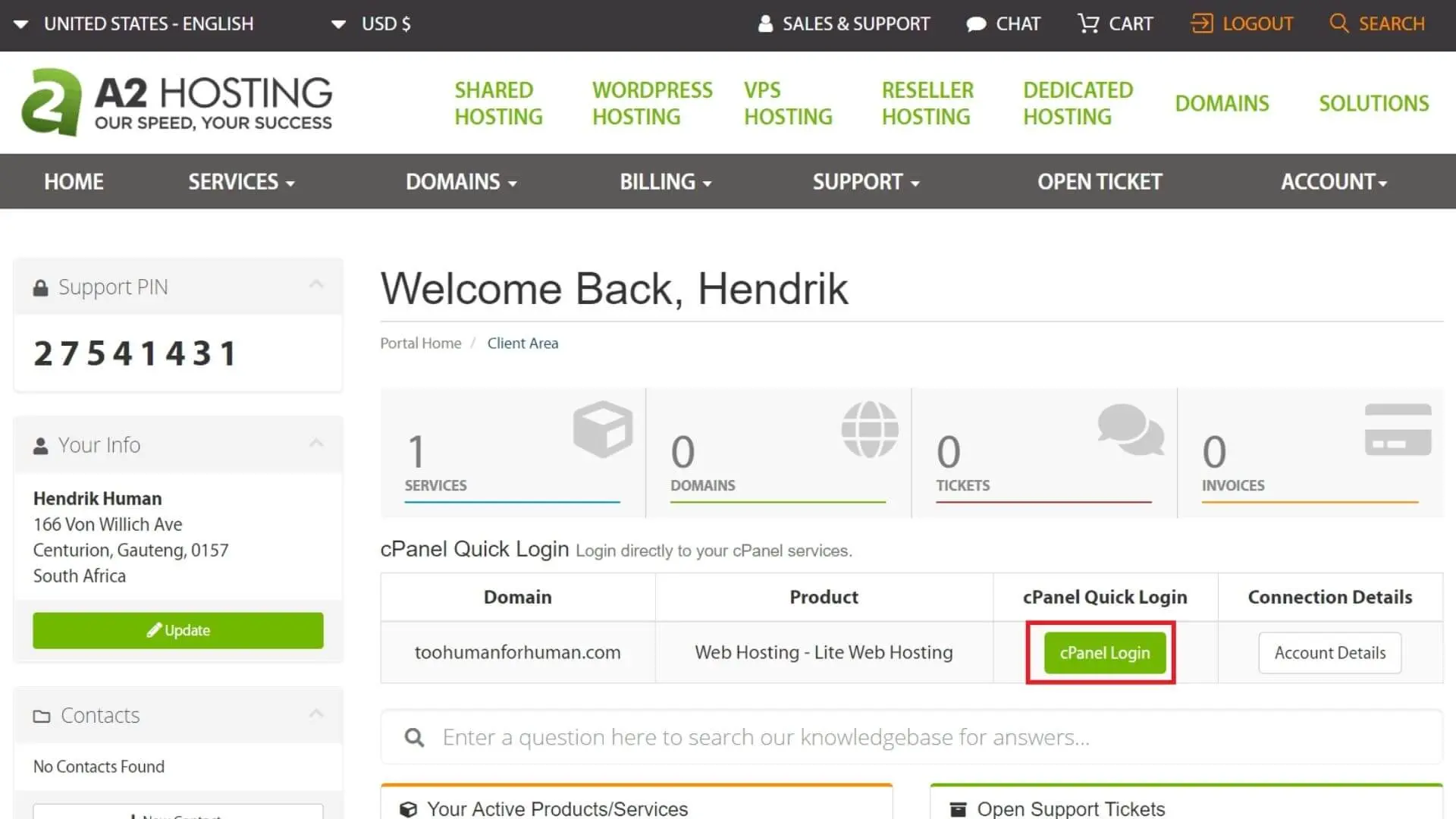 Pros
Reliable 30-day money-back guarantee
SSL certificates are for free
Singapore server (suitable for Australian website hosting)
24/7/365 customer support
Unlimited storage and transfer
Cons
Limited options in cheaper plans
3. SiteGroundAU
The Best WordPress Hosting In Australia
SiteGround ensures easy website management and hosting with quick and seamless website building and transfer features. You can either use the WordPress (or any other content management system) plugin along with it or hand it over to the team experts, and they'll take care of it.
Thanks to automated migrations, updates, and expert support, SiteGround is suitable for any business, even if you have no idea about web designing, SEO, etc. Similar to the previous company, this web host also provides different types of web hosting like shared hosting, cloud hosting, reseller hosting, and more. The basic plan includes one website, unlimited bandwidth and transfer, free SSL certificates, and 10 GB SSD storage.
Further, SiteGround follows a "security-first" mindset through daily malware scans on server and website levels. The company constantly updates its Web Application Firewall to stop third-party vulnerabilities and enhance the overall security of your system.
Lastly, SiteGround consists of fast data centres worldwide, with Sydney being the most suitable server for Australian website hosting.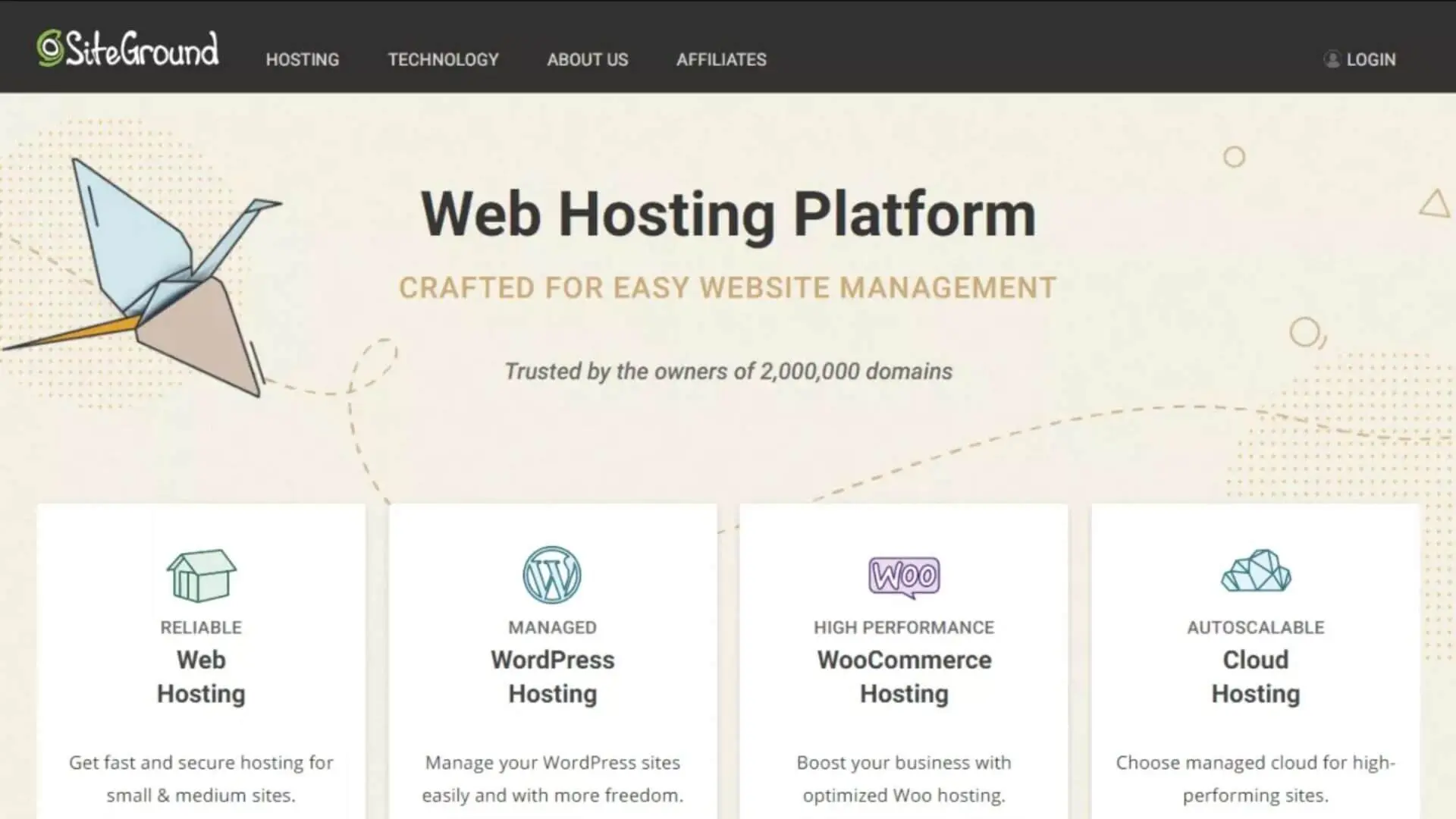 Pros
Faster page loading speeds
99.9% uptime guarantee
Free site mitigation and SSL certificate
Money-back guarantee
Beginner-friendly tools and interface
Cons
No free domain name
One-time setup fee
4. Hostinger
The Best Affordable Web Hosting Provider
Thought web hosting services always cost a bomb? Think again, as Hostinger offers its top-notch shared hosting services at a price as low as $1.39 per month. Although you will have to stick around for four years if you opt for the low-price plan. So, keep that in mind before you jump onto this budget bandwagon!
However, despite the low price, Hostinger does not compromise on its features and provides a decent web hosting service to Aussie websites. It has often recorded an uptime of 100% per month. Plus, it will boost your site speed and won't let your SEO efforts go in vain.
We also appreciate how all the plans include an easy-to-use website builder with ready-made templates that can be customised according to your preference. So, even if you or any team members are not adept at designing or coding, you'll still be able to put up a well-functioning website on the internet.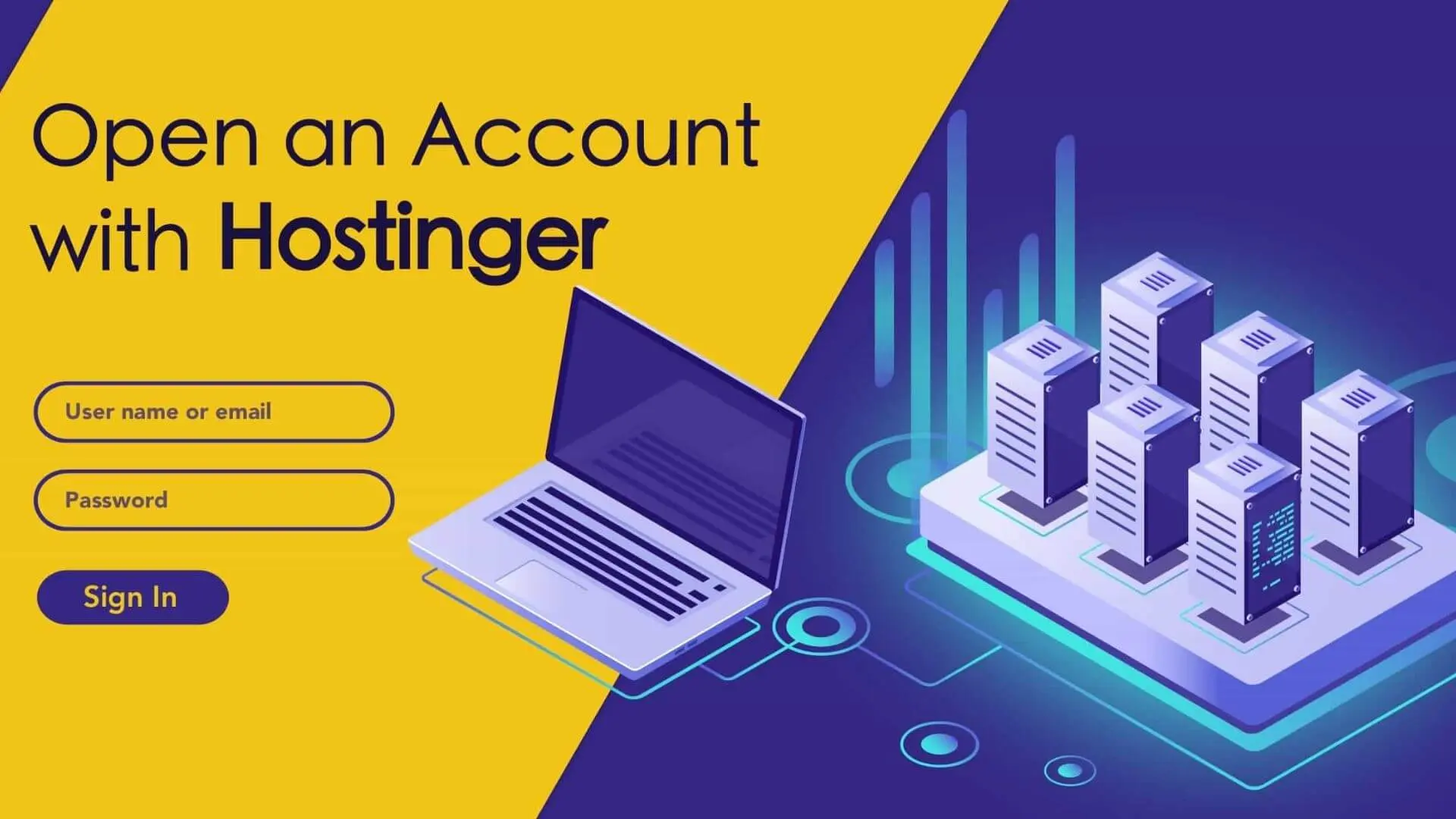 Pros
Record-breaking uptime
Easy-to-use website builder
Beginner-friendly and budget-friendly
30-day money-back guarantee
Fast loading time
Cons
5. Crucial
The Best Local Web Host
As you can already tell, none of the website hosting providers on the list was based in Australia. Enter Crucial, one of the best Australian green web hosting services. Besides web hosting, the company provides performance hosting, WordPress hosting, Linux VPS, and much more.
Crucial claims to help businesses "get the spark online" by making web hosting as easy as 1-2-3. But if you still find difficulties on the way, their team of web hosting experts will always be at your beck and call.
If you are an environmentally conscious business owner, you will appreciate that this web hosting company donates to " The Nature Conservancy Australia." Other than that, the brand contributes to a set of local and international causes every year.
So, by choosing Crucial, you are not just fulfilling your business goals but also participating in environmental conservation, education for the poor, and more such noble deeds. If you are a non-profit organisation, you are eligible for a special charity discount.
Crucial is well known in Australia for its high-performance VPS hosting; a virtual private server is the best website hosting option for growing businesses.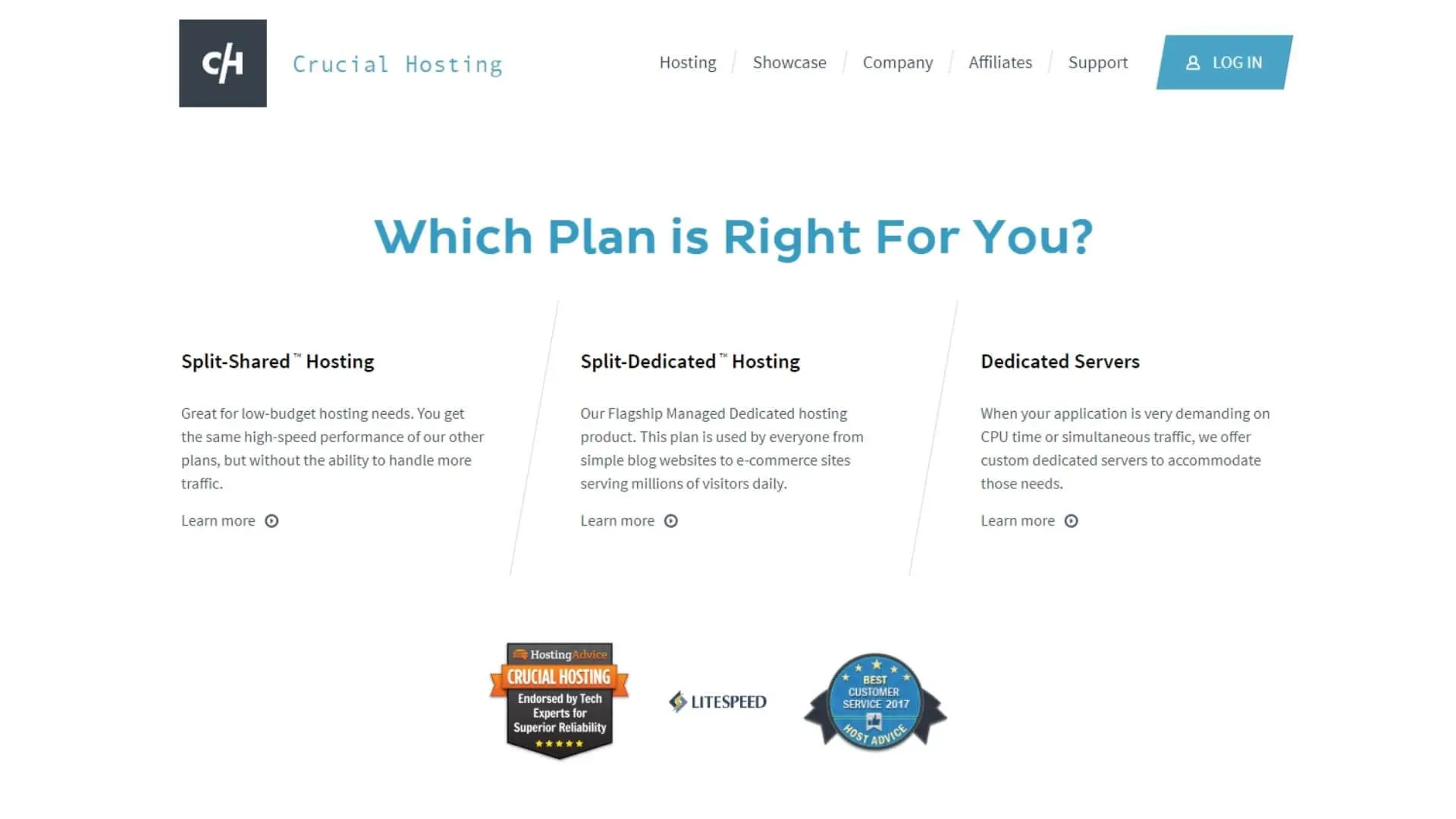 Pros
Local servers in Australia
Reliable customer support
Green host
Special discounts for NGOs
Cons
Expensive
No international data centres
6. BlueHost
The Best Website Hosting For Beginners
With BlueHost, WordPress becomes easier, smarter, and more fun! It combines the familiar tools of the world's most popular website builder with its security and design freedom. Besides, the BlueHost marketplace is an effective way to get started with a website theme that speaks for your brand.
However, that does not mean you won't be able to add your personal touch to the website. With design flexibility and powerful plugins, your creativity and productivity will know no bounds. And in case you get stuck, you can rely on the expert team that is onboard 24/7.
Thanks to the all-in-one security solutions like free SSL certificates, security updates, malware protection, and more, you can host your website with peace of mind.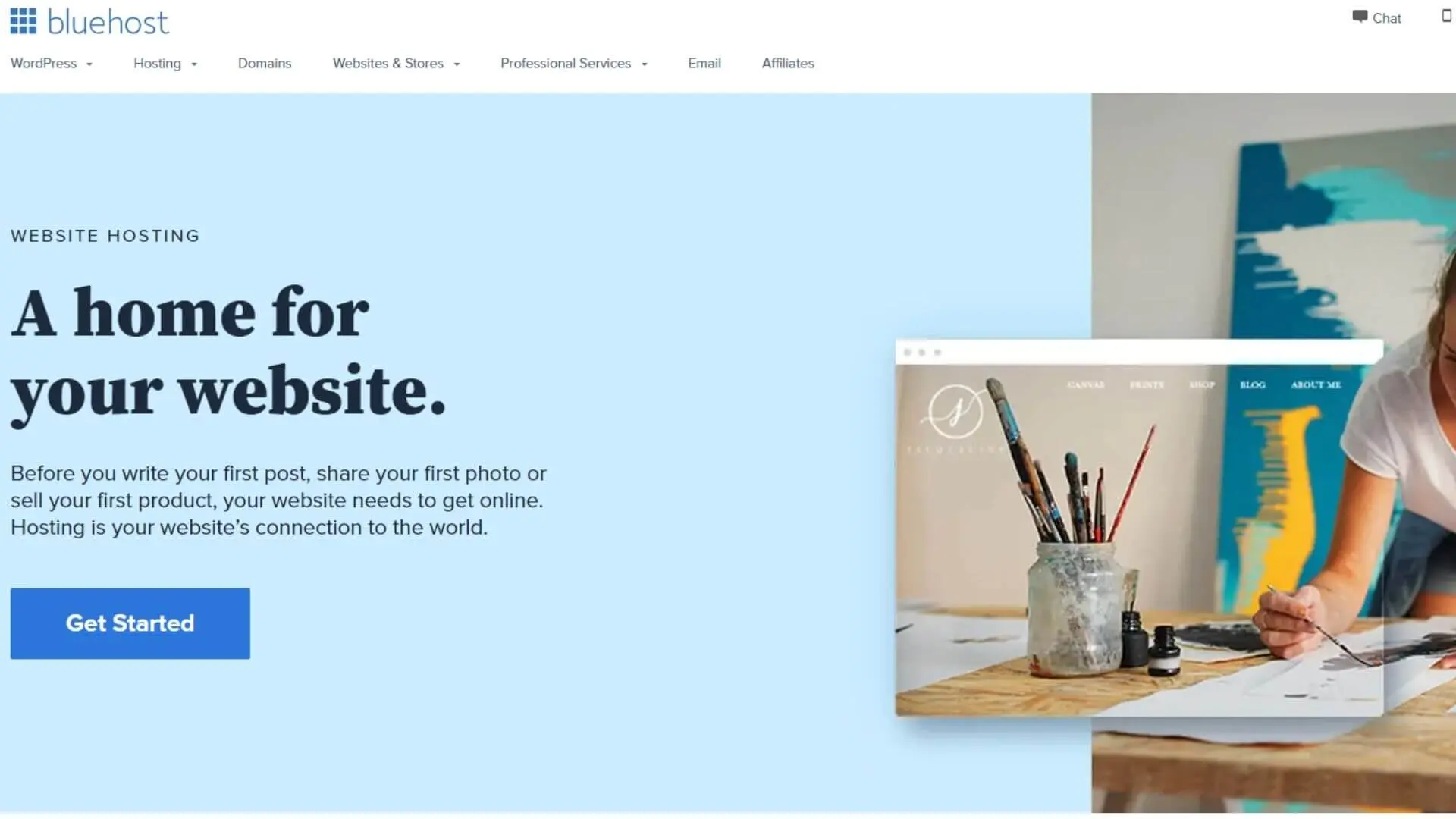 Pros
Seamless compatibility with WordPress
Affordable plans
Powerful security features
Highly customisable
Cons
No servers near Australia
Charges in USD
7. Cloudways
The Best For Cloud Hosting
If you are looking for a managed platform dedicated to cloud hosting only, Cloudways is your best bet. This reliable web hosting leaves all the performance and security hassles on them while you focus on the rest of your business. Also, you get prompt customer service that acts as an extended team for scaling businesses.
We especially like the easy-to-use interface and the PHP app integrations that offer freedom of choice. Believe it or not- by using Cloudways, your website will be live in minutes! And it doesn't end there. You will be able to collaborate and manage multiple apps more efficiently, all from one dashboard.
Like most hosting companies mentioned above, Cloudways offers its expert team support round the clock for beginners and veterans alike. Notably, it also provides a vast collection of blogs, FAQs, tutorials, and more to guide you through the process. The active community forum also consists of well-trained and experienced customers who can clarify some of your doubts.